NEWS
Penthouse Founder Bob Guccione Dies of Cancer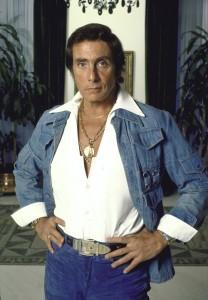 Before Paris Hilton and Kim Kardashian were famous for sex tapes, Penthouse magazine founder Bob Guccione had started an empire of adult content. The publishing giant, known for his over-the-top, explicit magazine as well as his outrageous mansion in NYC, died yesterday at a Plano, Texas hospital at the age of 79.
CNN reports that his family, including wife of four years, April Dawn Warren Guccione and two of his children, Bob Jr. and Tonina, were with him.
Article continues below advertisement
Guccione founded Penthouse in 1965, and vied for men's attention along with Playboy's Hugh Hefner and later, Hustler's Larry Flynt.
CLICK HERE FOR ALL OF OK!'S PHOTOS AND CELEBRITY GALLERIES!
The Brooklyn-born magnate also published several other titles in his time, including Omni, where Anna Wintour once worked before becoming Vogue's editor. He also produced movies such as the infamous Caligula.