NEWS
Perez Hilton to Debut Clothing Line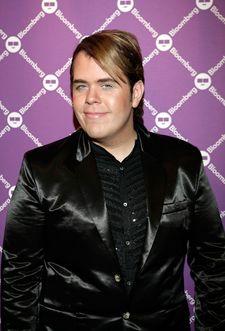 Notorious blogger and "Queen of All Media," Perez Hilton, can now also call himself a "designer."
On Tuesday, Perez announced plans to introduce a clothing and accessories line, to be sold exclusively at Hottopic.com and in all Hot Topic stores nationwide.
Perez Hilton for Hot Topic will feature women's t-shirts, hoodies, accessories and footwear. Hilton, who's real name is Mario Lavandeira, said the decision to put his name behind a line of clothing and accessories seemed like a natural next step.
Article continues below advertisement
"2008 is all about expanding the Perez Brand," the blogger explained. "I talk about clothes all the time on my website. I have a good eye for what's hot and what's not."
Perez, who says his celebrity website, Perezhilton.com, is more popular than MySpace among women aged 18-25, said he can't wait to share his new line with fans.
Hilton's site has reached remarkable heights as a "go-to" for celebrity gossip, despite a consistency of snarky comments and crude drawings he is famous for inserting over photos of prominent and some not-so-prominent celebrities.
Hilton says the success of his website encouraged him to look beyond the boundaries of cyberspace.
"It seems natural to make products that my readers will love and hopefully some guys will rock it too," he said. "Some people might even call me a perfectionist, well that person would be me! I'm very passionate about my brand. I have extremely high standards and I like to get my hands dirty!"
The line, which debuts on June 6, will range in price from $1.75 to $46, and will include products like Gossip Gangster Flip Flops, Perezcious Pink and Purple Lip Gloss and P-Nasty Shades--just to name a few.
Article continues below advertisement
The celebrity blogger also plans to sell tote bags, socks and earrings, and says fans will even be able to buy their own Perez Hilton journal, so they can be as nasty as P-Nasty himself.
"I'm most excited to finally see on the shelves products that are good and affordable for my readers," Hilton said. "I actively sought out Hot Topic for that reason."
And if you think Perez is following in the footsteps of other Hollywood starlets who seem to be attaching their names to anything and everything, think again!
"I keep seeing these lines from the likes of Lauren Conrad and Heidi Montag that give me nightmares," he says. "My brand will be very conscious of my audience."
Well, it wouldn't be true Perez style without a little dig at the end, now would it?