NEWS
Perez (Kind Of) Apologizes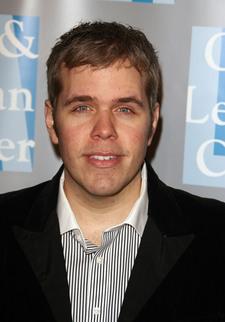 Guess who's still trying to talk his way out of using antigay slurs against will.i.am? Yep, Perez Hilton issued another statement on his blog regarding his fight with the Black Eyed Pea, in which he says he's sorry for using the antigay "f" word. However it comes across more like, "I'm sorry that I used the wrong word and got caught saying it and got hit for it."
"People make mistakes. I have made many in my life, but this past week I have made more than I can count on one hand, he writes. "I am sorry. And I mean it. No one is forcing me to write this. I am not feeling pressured to say this. I am speaking out because I realize that the last few days have been more hurtful to me – and many others – than the repeated blows I suffered to my head in Toronto this past weekend."
Article continues below advertisement
At one point he writes, "Victims should not be mocked," and it's unclear in this situation who he considers the victim.
He also promises never to use the "F" word again, and goes on to express his regret in not being better than will.i.am.
"Hindsight is always 20/20, they say. I should have been the bigger man and walked away from an unfortunate situation. Instead, I chose - in a very misguided way - to stand up for myself and only made things worse by how I - under pressure, anger and extreme emotion - handled the situation.
I am sorry."
Finally, Perez says he doesn't care about GLAAD, just the gay community he may have hurt, and is donating any proceeds from his lawsuit against road manager Polo Molina to the Matthew Shepard Foundation.
Meanwhile, will.i.am has also released a statement regarding the situation.
It says, in full:
"I will not continue to comment specifically on the incident that happened in Toronto last weekend… But I would hate for my silence to be misconstrued… I do not condone harassment or violence of any kind…
Article continues below advertisement
No one deserves physical abuse…
And no one deserves verbal abuse…
No one deserves that…
Everyone needs to be respected…
And no ones name should be slandered in the name of hate and disrespect…
And fyi…"not every black man is a thug"…
As far as character allegations made against myself,
The members of the Black Eyed Peas,
And members of our management…
I believe that the truth will speak for itself once the details of the events are fully presented.
Hateful slurs…
Racial or gay should not be used as verbal weapons to provoke violence…
Let us all learn from the events that happened in Toronto…
That situation has already taken valuable time, energy,
And attention away from more important,
And in some cases, devastating issues happening in our world.
Thank you…
will.i.am"