NEWS
Peter Facinelli Dishes on Robsten to OK!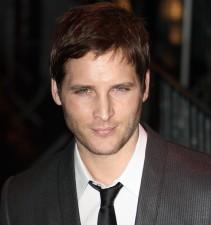 OK! caught up with Peter Facinelli last night at the Tribeca Film Institute Benefit Screening of Everybody's Fine in NYC. The Twilight star dishes on the Robsten Romance, his surprise birthday party and what he has learned from wife Jennie Garth. Peter is not sure if he will see co-stars Robert Pattinson and Kristen Stewart over the holidays. "I haven't seen them since the premiere in New York, so I don't really know where any of the Twilight gang is."
Article continues below advertisement
"But when I get back in town — I haven't been — I'm sure I'll reach out to them and wish them a happy holiday," Peter, who has been busy shooting Showtime's Nurse Jackie, tells OK! "Kellan Lutz wished me a happy birthday last week. That was very nice of him."
Jennie knew how to celebrate her hubby's big day.
"My wife threw me a surprise party, so that was fun," Peter tells OK!. "She totally got me, because I wasn't even thinking about my birthday, so it was a nice surprise."
So what's the deal with Rob and Kristen? Peter is unclear.
"I don't know. I work with Edie Falco, and I couldn't tell you about her love life," he says laughing. "People's love lives are private, and I don't really ask. I show up and I work with them. They're good friends. I don't really ask about their love life."

But one things for sure, "They're really cool. I enjoy working with them," Pete says of Robsten.
Article continues below advertisement
He also says the dynamic between Rob and Kristen has not changed due to the constant hype surrounding Twilight.
"I know they're the same people I met when I first met them." Peter says. "The success hasn't gone to their heads. They don't have ego. It's nice to come back and shoot with the same people, and know that they're still the same people that we started shooting these projects with."
Back to Peter's marriage with Jennie. He says he has learned one crucial thing from his wife of eight years.
"Patience. I'm in a house full of women. To be in a house full of women - I have three daughters, and I'm surrounded by women - you need a lot of patience, I think. Maybe that's my lesson in life - to learn patience."