NEWS
Peter Facinelli & Jennie Garth Yearn for a Son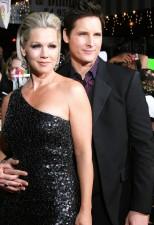 It's birthday season in the Peter Facinelli-Jennie Garth home as Peter and daughter Lola celebrate their milestones just ten days apart.
"My wife threw me a surprise party, so that was fun," The Twilight Saga: New Moon star tells me of his 36th birthday celebration during the Tribeca Film Institute Benefit Screening of Everybody's Fine held this week at NYC's AMC Lincoln Square. "She totally got me, because I wasn't even thinking about my birthday, so it was a nice surprise."
Article continues below advertisement
Bonus: New Moon co-star Kellan Lutz wished him a "happy birthday."
"That was nice," he says.
Meanwhile, lil' Lola turned seven on Sunday, and her sisters Luca, 12, and Fiona, 3, were on hand to blow out the candles.
Jennie attests that the man she married in 1996 is a great dad.
"He's very hands-on," the actress, 37, says. "He doesn't watch football or sports, he doesn't drink beer. He's not a guy's guy in that respect. Not that he's not a guy's guy … that sounds bad. But I'm lucky, I'm so lucky that he doesn't drink or sm … well, heh … he's just a rare find, so I'm really, really lucky."
Peter tells me "patience" is the most important thing he's learned from his wife.
"I'm in a house full of women," the actor, who also stars in Showtime's Nurse Jackie, says. "To be in a house full of women – I have three daughters, and I'm surrounded by women – you need a lot of patience, I think. Maybe that's my lesson in life – to learn patience. "
Sometimes it gets to be too much, and he just needs alone time.
Article continues below advertisement
Jennie says, "Sometimes I'll hear the Harley thing rev up, and I'll know he's had enough estrogen for one day and he's gotta get out of the house. There's a lot hormones going on right now in my house."
She adds, "I want a boy every day. Yes I do. I love them. We're so fortunate, and I don't ever want to push that envelope. You think, 'I have three healthy, great kids, and I'm so lucky' that I would be scared to have more. But I would be willing to take the risk. I do want a boy."
The power couple make time for each other in the tub before the girls wake up.
"He loves taking a bath," Jennie says. "I don't really like taking a bath. I feel terrible. Because he likes the water cold, and I like it hot. It doesn't work out. I told him I wanted to put a TV in the bathroom, and he got mad at me. He was like 'no, that's our time in the bathroom.' And I was like 'yeah, but I can watch Nurse Jackie on the TV while you're talking.'"
Maybe they'll get their wish and welcome a son in 2010.
Here's a pic of Jennie and I.