NEWS
Peter Facinelli Proud to Be Named the No. 1 "Worst Vampire"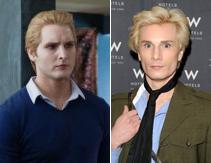 Peter Facinelli has been named the No. 1 "worst vampire" by Rolling Stone for his role as Dr. Carlisle Cullen in The Twilight Saga, but he couldn't be more proud! The only problem he has with the remark was being compared to Austin Scarlett!
OK! GALLERY: TWENTY NEW TWILIGHT SAGA: ECLIPSE STILLS!
A Rolling Stone film critic picked Peter as the worst of his "The Best and Worst Vampires on Film and TV" list!
Article continues below advertisement
"Facinelli is a solid actor," the critic, Peter Travers, explained. "But playing Carlisle Cullen, the white-haired head of the fang-challenged Cullen vampire family, he looks about as terrifying as 'Project Runway' winner Austin Scarlett, whom Carlisle closely resembles."
OK! GALLERY: ECLIPSE UK PREMIERE BRINGS OUT FAMOUS FACES!
But Peter was thrilled by the news!
"YES! I finally came in Number 1 in something!" he Tweeted Wednesday.
"Thank you Mr. Travers," Peter added. "As Carlisle is a compassionate humanitarian, and anti-vampire in nature, being the worst vampire was quite the compliment."
OK! GALLERY: PETER FACINELLI SIGNS AWAY FOR ECLIPSE FANS IN L.A.
But Peter did take offense to be compared to Austin!
"Although, you had me at "solid actor," the Twilight star Tweeted, "I did find the comparison to Austin Scarlett utterly ridiculous though ... He has way better cheek bones."