NEWS
Peter Facinelli's Daughter "Weirded Out" by Dad's Fans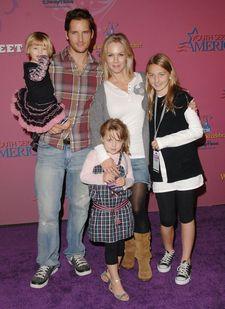 Peter Facinelli may have tons of adoring teenage girls worshiping his eternally young and gorgous character in Twilight, Dr. Carlisle Cullen, but it's all the same to his 11-year-old daughter, thank you very much.
Facinelli's wife, 90210 star Jennie Garth, tells Access Hollywood's Billy Bush that their oldest daughter, Luca Bella, thinks fans' fascination with good ol' dad is just downright strange.
Article continues below advertisement
"It's so funny because my daughter has friends that have seen the movie and they think that Dr. Carlisle is hot," Jennie, 35, says. "She gets all weirded out, and like, 'Eww, that's my dad!'"
Garth, who adds that Facinelli is "so happy to be part of it Twilight and proud of it," goes on to say that the couple's two other daughters, Lola Ray, 6, and Fiona Eve, 2, are their dad's true number one fans.
"They just can't get enough of him," she says. "He loves it."