NEWS
Phil Spector Found Guilty of Murder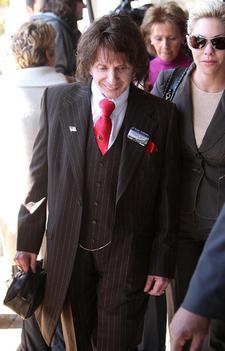 Six years after B-movie star Lana Clarkson died of a gunshot wound in music producer Phil Spector's home, a jury has finally ruled in the case against Spector, EOnline.com reports.
In the second trial against Spector since Clarkson was killed, a Los Angeles jury found Spector guilty of second-degree murder. The former hitmaker is 69 and could spend the rest of his years in jail after his sentencing on May 29.
Article continues below advertisement
Prosecutors said Clarkson was the victim of a man who had a history of violence against women. Spector's lawyers contended that she shot herself in his foyer.
Spector is no stranger to the courtroom – in 2007 a jury was unable to reach a verdict in the case.
Prosecutors—who used the same line of defense at the second trial as the first—argued Clarkson fell victim to a man who had a history of waving guns and acting violently toward women—especially when he'd been drinking. Spector's defense contended Clarkson shot herself.