NEWS
The PhilmGuy Reviews: 'Our Family Wedding'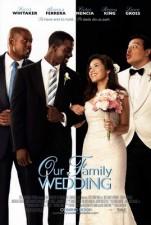 There is so much potential for disaster in Our Family Wedding that you feel like you could light a match and the whole thing would blow up. For starters, the concept is a reworking of Guess Who's Coming to Dinner as a comedy. The last movie to try that, Guess Who, was so forgettable I had to look up the title.
Such comedies fail to recognize that although racism as it relates to interracial marriages still exist, it's internalized and brushed under the rug, yet the movies give us families with outspoken xenophobia — in this case, between black and Hispanic families.
Article continues below advertisement
Secondly, Carlos Mencia plays a lead. Judging from the comedian's inability to stay amusing during his defunct half-hour sketch show Mind of Mencia, having him carry a 90-minute comedy maybe seems like not such a great idea.
Yet the movie somehow sings. It's funny, heartfelt, romantic and relentlessly entertaining. Even the bad jokes, including a Viagra-chomping goat that ends up sexually assaulting Forest Whitaker, are so bad that they circle around to be ironically funny.
America Ferrera and Lance Gross play a young couple who announce their engagement to their ignorant, epithet-spewing families at a joint family dinner at a restaurant. It's a bold move not so much because the lovers come from different backgrounds, but because neither has told their families that they were even dating. Turns out the dads — played by Mencia and Whitaker — have already met each other and became mortal enemies in a prologue. The characters engage in a movie-long match of machismo that works all the better because the actors have so little chemistry and enjoy stepping on one another's lines.
Article continues below advertisement
Things stay just as stilted throughout, but the characters are such charming caricatures and the racist jokes are just awful enough to be semi-clever. Take a scene in which a Mexican grandmother turns around, gets one look at Gross and faints. Sure, it's stupid, but funny.
Although I had a giddy good time watching the movie, I'm pretty sure I hated it; but I so enjoyed hating it that I pretty much loved it. The bottom line is laughter doesn't lie.
Starring America Ferrera, Forest Whitaker, Carlos Mencia and Lance Gross. Written by Wayne Conley, Malcolm Spellman and Rick Famuyiwa, based on a story by Conley. Directed by Famuyiwa. Rated PG-13. 90 minutes.
Phil Villarreal's humorous money-saving book, Secrets of a Stingy Scoundrel, is available on Amazon.