NEWS
The PhilmGuy Reviews 'Where the Wild Things Are'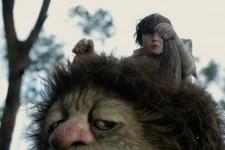 Where the Wild Things Are is more effective birth control than condoms.
As the movie played, I glanced over at my 2-year-old and wondered if it wasn't too late to trade him back in for store credit at the hospital.
I'm joking, but I did shudder when I imagined my sweet little boy morphing into an ungrateful tween who dresses up in a wolf costume, then defiantly leaps onto the table when you try to serve him dinner. Tell him he has to eat, then he bites a chunk out of your shoulder, then runs off into the forest to hallucinate about James Gandolfini in an Ewok suit giving him therapy for 75 minutes.
Article continues below advertisement
A whimsical acid-trip horror fest, Where the Wild Things Are is as flat-out entertaining and thought-provoking as it is freaky. In director Spike Jonze's first movie since 2002's Adaptation, he delves into the classic Maurice Sendak children's book.
Child actor Max Records carries the film as the emotionally disturbed lad who takes a Dorothy-like dive into his creative subconscious, frolicking with giant hairy beasts who name him their king. Max is on the run from his reasonable but overburdened mom (Catherine Keener) , but works out his issues by rasslin', reasoning and running from the beasts.
A visually astounding rumpus with a gloriously childlike vibe – with a knockout script that includes the best knock-knock joke I've ever heard – Jonze's effort shines as a family film for the way it preaches morality at without spoon-feeding. And the movie works for rugrats as well as adults. My kid sat through the whole thing without once shouting "OFF!" at the theater screen, which ranks it right up there with Monsters vs. Aliens and Up.
Article continues below advertisement
Starring Max Records, Catherine Keener and Mark Ruffalo, with the voice of James Gandolfini, Lauren Ambrose, Catherine O'Hara and Chris Cooper. Written by Spike Jonze and David Eggers, adapted from the book by Maurice Sendak. Directed by Jonze. 94 minutes.
ALSO OPENING THIS WEEK:
Law Abiding Citizen: When people who murdered Jamie Foxx's family get off on a plea bargain, Foxx goes after the attorney who brokered the deal.
•Odds Foxx will utter a lame catch phrase: 1-2.
•Odds Foxx will decide that violence is not the answer, but only after committing tons of violence: 1-4.
•Odds director F. Gary Gray will ever live up to the promise of Friday: 100-1.
New York, I Love You: A star-studded remake of the arthouse hit Paris Je T'aime, with several short films with different casts and directors paying tribute to NYC.
•Odds Shia LaBeouf will talk to himself in one of his scenes: 3-2.
Article continues below advertisement
•Odds Brett Ratner's segment will suck: 2-1.
•Odds I will eventually see any movie that includes the incredibly hot Natalie Portman, Blake Lively, Olivia Thirlby and Rachel Bilson: 1-2.
The Stepfather: Dylan Walsh plays a seemingly perfect (read: secret serial killer) stepfather to an untrusting young man (Penn Badgley).
•Odds the movie will be scary in any way: 50-1.
•Odds it will be less cheesy than the 1987 movie it's remaking: 4-1.
•Odds Walsh survives for a sequel: 3-1.
Phil Villarreal's humorous money-saving book, Secrets of a Stingy Scoundrel, is available at bookstores and on .