NEWS
The PhilmGuy's DVD Review: 'Casa de mi Padre' Starring Will Ferrell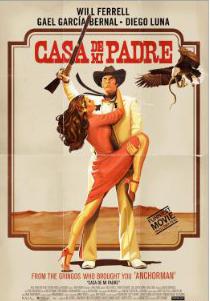 Casa de mi Padre — This bizarre, Spanish-language-with-subtitles mockery of Telemundo-style soap operas stars Will Ferrell as a Mexican rancher who struggles with his drug dealer brother (Diego Luna) for the favor of their father and the dealer's bride-to-be (Genesis Rodriguez). Ferrell shows considerable Spanish-speaking ability, but many of the jokes don't connect because they try too hard. The movie is worth a look for its sheer strangeness, but don't expect to laugh as much as you would at an English-language Ferrell escapade. Deleted scenes, filmmaker commentary, a making-of featurette and an amusing music video with Ferrell and Rodriguez fill out the disc.
Article continues below advertisement
Castle in the Sky Blu-ray — Hailed by the Internet Movie Database as one of the 250 greatest movies, Hayao Miyazaki's 1986 anime masterpiece tells the story of a boy and girl possessing a magic artifact who tangle with pirates and government spies as they search for a legendary floating castle. Anna Paquin, James Van Der Beek, Clois Leachman and Mark Hamill provide the voice talent. The disc includes an intro from Pixar's John Lasseter, as well as several background featurettes.
Friends With Kids — The under-the-radar winner rounds up an impressive cast (Adam Scott, Jennifer Westfeldt, Kristen Wiig, Maya Rudolph, Megan Fox, Edward Burns and Jon Hamm) for a smart and funny romantic comedy, set in the marital minefield that raising children presents. Scott and Westfeldt play platonic pals who, tired of being left out of the kid-rearing madness in which their circle of friends is partaking, decide to have a kid of their own. Westfeldt writes, produces and directs, spinning a heartfelt and witty tale. The disc boasts a gag reel, deleted scenes, a making-of featurette and commentary from Westfeldt, Hamm and the cinematographer.
Article continues below advertisement
Home on the Range Blu-ray — Roseanne Barr, Steve Buscemi, Judi Dench, Cuba Gooding Jr. and Randy Quaid provide the voice cast star power for this 2004 Disney animated musical romp, about a gang of dairy-farm animals who track down cattle rustlers. Some songs are catchy, but the dialogue is weak and the slapstick panders to kids rather than offering something for everyone. The Blu-ray/DVD combo includes a Three Little Pigs short, deleted scenes and several featurettes.
Mean Streets Blu-ray — Martin Scorsese's 1973 gangland drama, which placed him on the map as a major talent, stars Robert De Niro and Harvey Keitel in a tale of a pair of Little Italy small-timers attempting to better their lives through a mix of on-the-level business and seedy ventures into the criminal underworld. The movie may not rank among Scorsese's top efforts, but it's mesmerizing to see him find his voice, as well as catch De Niro and Keitel in such early roles. A commentary track and vintage featurette are the only extas.
Article continues below advertisement
Salmon Fishing on the Yemen — Emily Blunt and Ewan McGregor play a pair of would-be lovers unhappy with their current relationships who find passion in an outlandish project — helping a wealthy sheikh stock a Yemeni river with salmon. The quirky drama explores the attempts to bridge the cultural gap between the West and Middle East, and the slowly evolving romance between the leads keeps the story human. Extras include a look an interview with the author of the source novel and a featurette on the story.
Singin' in the Rain 60th Anniversary Ultimate Collector's Edition Blu-ray — Crowned by seemingly most movie lovers as one of the greatest movies of all time, the iconic 1952 musical features Gene Kelly in a breathless performance. The song-and-dance master delivers several of his most well-known numbers, including the unforgettable title track. The plotting and dialogue have aged poorly, but there's still a disarming exuberance to the movie. The thee-disc set, nestled inside a shoebox-sized container that includes an umbrella, showers you with extras, including a tribute documentary and commentary from several Hollywood luminaries, including Baz Luhrmann and Debbie Reynolds. There's also a deleted musical number, a making-of featurette and in-depth looks at producer/songwriter Arthur Freed.
Article continues below advertisement
The Three Stooges — This Farrelly Brothers reinvention of the old-time slapstick classic is about as good as can be expected. Sean Hayes, Chris Diamantopoulos and Will Sasso perfectly replicate Moe, Larry and Curly. The lovable buffoons work to raise enough money to save the orphanage in which they were raised, stopping along the way to bop each other in the head, point peeing babies at one another and smack each other with hammers. Extras in the Blu-ray/digital copy combo include deleted scenes, a look back at the history of the Stooges and an examination of the casting process.
Treasure Planet: 10th Anniversary Blu-ray — Disney's 2002 outer space-set take on Treasure Island rounds up Joseph Gordon-Levitt, Emma Thompson and David Hyde Pierce to voice its roundup of oddball characters. Although the forgettable movie doesn't rank anywhere near the studio's upper echelon, it's good fun for fans of the original story who are looking for a fresh take on the material. The Blu-ray/DVD combo includes deleted scenes, commentary and several background featurettes.