NEWS
The PhilmGuy's DVD Review: 'Deadwood'; 'The Expendables'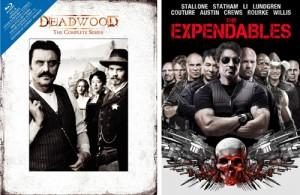 Deadwood: The Complete Series Blu-ray – David Milch's gritty, hilariously foul-mouthed masterwork shimmers in HD. Like a famous gunslinger in the Old West, the show lived hard and died before its time.
The series lasted only three seasons, and season one is the finest TV drama I've ever seen. Timothy Olyphant plays a reluctant former lawman turned shop owner who's forced to keep the peace when he settles in a dangerous town run by barkeeper, whoremaster Al Swearengen (Ian McShane). Four hours of bonus features fill out the set. My favorite is an interview with Milch in which he reveals how the series might have ended had HBO not pulled the rug out from under it.
Article continues below advertisement
THE PHILMGUY REVIEWS: BURLESQUE
Glee Season 1: Gleek Gift Set with Journal – In the oddest cash-in for the ragingly popular musical series yet, you get all 22 episodes on DVD – even though the show is also out on Blu-ray, it's not available in gift set form – along with a Glee-themed journal. The special features are the same as what you'll find in the non gift-set version, which I recommend over this one without hesitation.
I'm Still Here – In case you'd forgotten Joaquin Phoenix flipped out two years ago, retired from acting and tried to become a hip-hop musician. His brother-in-law Casey Affleck followed him around with a camera, recording the meltdown for posterity. Affleck has come forward to reveal that much, if not all of the film is a hoax, but Phoenix's hiatus from acting seems to have proven legitimate. Whether fake or not, the movie provides a fascinating peak into the life of a celebrity who's lost his sense of direction. If Phoenix is indeed acting, this is probably his finest performance to date. Affleck, Phoenix and others provide a bizarre commentary, and Affleck has his own additional track. There are also deleted scenes with commentary from – guess who? – Affleck.
Article continues below advertisement
THE PHILMGUY REVIEWS: HARRY POTTER AND THE DEATHLY HALLOWS: PART 1
Tyler Perry Bly-rays – Sold separately, the writer-director box office phenomenon's films all make the leap to high definition, although in disappointing transfers that seem to ape the special features on the DVD editions, adding little other than a prettier picture. Why Did I Get Married, Diary of a Mad Black Woman, Madea's Family Reunion, Madea Goes to Jail and The Family That Preys are all new to Blu-ray.
The Winning Season – If you're missing the days when a Mighty Ducks movie came out every other year, this inspirational tale of a girls high school basketball coach (Sam Rockwell) who cobbles together a team of misfits and turns them into a contender. Rockwell's character is a sexist cutup who changes his ways. Rob Corddry, Rooney Mara and Emma Roberts fill out the supporting cast of the harmless, forgettable flick, which includes director commentary.
OK! GALLERY: STARS BRING BLACK MAGIC TO THE BIG APPLE FOR HARRY POTTER PREMIERE
The Expendables – In the months leading up to the release of this action flick, I'd smile whenever I encountered the life-sized movie theater stand-up of the lineup of faded stars. Sylvester Stallone, Jet Li, Dolph Lundgren, Jason Statham, Bruce Willis, Arnold Schwarzenegger and Mickey Rourke are the core of the lineup, but it's too bad they forgot a decent script. Stallone and crew play a gang of mercenaries who vie to overthrow a South American dictator. Dead on arrival, the movie packs more groans than cheers. The Blu-ray, which includes a DVD version and digital copy, is filled with fan service, including footage from the San Diego Comic Con panel, making-of and post-production documentaries and a gag reel with a deleted scene.