NEWS
The PhilmGuy's DVD Review: District 9, It's A Wonderful Life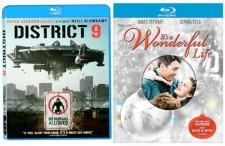 District 9 — The breakout sci-fi hit of last summer brings the thunder on a spectacular Blu-ray and run-of-the-mill DVD. Set in South Africa, the story is about humanity's mishandling of some eerily powerful yet disarmingly vulnerable alien beings, who are rounded up into a settlement camp and moved around for political whims. Shot in a shaky-cam, faux-doc style, the drama chills you to your core. The Blu-ray has a digital copy, director commentary, deleted scenes, a slew of engaging featurettes and for PS3 owners, a demo of the God of War 3 game. The two-disc DVD has most of the same features, sans the demo and digital copy.
Article continues below advertisement
It's a Wonderful Life — The 1946 Frank Capra holiday classic debuts on Blu-ray. Some say there's no reason to own a movie that plays constantly on TV this time of year, but if you're an absolute freak for the movie and can't stand the interruption of commercial breaks, you've got to make space in your library for this one. It's astounding just how much high definition improves the black-and-white picture, making it feel as though you're seeing it for the first time in a way after decades of seeing it in on fuzzy tube TV broadcasts. The two-disc set skimps on the extras, including only a trailer and making-of doc, but an intriguing extra is the abhorrent colorized version of the movie that is good for playing for ironic effect at a New Year's party.
American Pie Presents: The Book of Love — For some reason I feel compelled to watch every single one of the umpteen annual American Pie offshoots, even though I can't stand them. This one brings the setting back to high school, in which a gang of idiot virgins discovers a secret guide of seduction in the school library and use it to fulfill their dreams. It's just as awful -- though inexplicably watchable -- as you'd expect, and series regular Eugene Levy checks in for his usual five-minute paycheck bit. It's on Blu-ray and DVD, including outtakes with bizarre sex/relationship advice.
Article continues below advertisement
Extract -- Mike Judge (Office Space, Idiocracy) is hit or miss as a filmmaker, and the black comedy Extract is a bit of both, although I've found it's grown on me quite a bit since I first saw it, and it gets better on a second and third viewing -- definitely a sign it's worth buying. Jason Bateman stars as a frustrated, married business owner who starts an ill-advised affair with a con artist (Mila Kunis) while trying to sell the company and paying a gigolo to sleep with his wife so he can get out of the marriage. The laughs are subtle and there's a surprising emotional undertow to the material. The Blu-ray has exclusive extended and deleted scenes, while the DVD is a nearly bare-bones affair, save for a mini-doc on Judge.
Phil Villarreal's humorous money-saving book Secrets of a Stingy Scoundrel is available on Amazon.