NEWS
The PhilmGuy's DVD Review: 'Entourage,' 'She's Out of My League'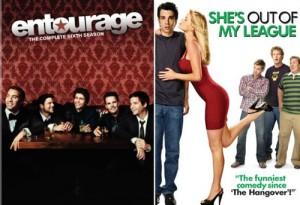 Entourage: The Complete Sixth Season – Although the season starts off with a whimper, this feel-good fantasy comedy aimed at men eventually hits its usual stride. Adrian Grenier plays star actor Vincent Chase and Kevin Connolly, Kevin Dillon and Jerry Ferrara are his hangers-on, while Jeremy Piven steals every one of his scenes as egotistical agent Ari Gold. Extras include behind-the-scenes featurettes and commentaries.
Article continues below advertisement
THE PHILMGUY'S DVD REVIEW: BOOK OF ELI;WHEN IN ROME
The Good Guy — Alexis Bledel plays a conflicted NYC girl who struggles to choose between her boyfriend, a high-powered Wall Street type (Scott Porter) and his sensitive, kind coworker (Bryan Greenberg). It's as predictable as romantic comedies come, but Greenberg and Bledel lather up enough chemistry to keep the film chugging along. Bledel and writer/director Julie DePietro provide commentary.
Green Zone – Matt Damon reteams with Paul Greengrass, director of the last two Bourne films, for a gritty, shaky-cam tale of an Army officer who bucks command to uncover weapons of mass destruction intelligence fraud in Iraq. The Blu-ray packs a digital copy, commentary by Damon and Greengrass and a look at Damon's training regimen to prepare for the role.
Article continues below advertisement
The Last Station – Christopher Plummer plays famed writer Leo Tolstoy and Helen Mirren tackles the role of his wife in a superbly acted tale about Tolstoy's last days and the couple's struggle over Tolstoy's choice to leave the royalties from his literature to the Russian people. The Blu-ray includes deleted scenes, as well as cast commentary and a tribute to Plummer.
A Star is Born Deluxe Special Edition Blu-ray – Looking far older and world weary in this 1954 musical than her 32 years of age at the time, Judy Garland wilts in the HD version of this revered but dated spectacle that no longer packs the punch it once did. If you're a fan of Garland or the movie, you'll enjoy the way it's treated here, in a two-disc set packaged in a 40-page booklet that tells you anything you'd want to know about the production. The package overflows with background documentaries and audition footage.
Article continues below advertisement
Youth in Revolt – Michael Cera shows some range in this black comedy about a meek teen who develops an alternate personality in order to impress the girl of his dreams. There's an offbeat, Napoleon Dynamite-like vibe to the plot, and the movie draws some delightfully hammy performances from Justin Long, Zach Galifianakis, Ray Liotta and Steve Buscemi. The Blu-ray lacks a digital copy but has deleted and extended scenes as well as Cera's commentary.
THE PHILMGUY REVIEWS: SEX AND THE CITY 2
She's Out of My League – A decent romantic comedy about a kind-to-a-fault airport worker (Jay Baruchel) starts dating the gorgeous Molly (Alice Eve), then struggles along with his blundering buddies to figure out what she sees in him and paralyzes the relationship with overanalysis. Deleted scenes and an extended ending fill out the Blu-ray and DVD.
Phil Villarreal's humorous money-saving book, Secrets of a Stingy Scoundrel, is available on Amazon.