NEWS
The PhilmGuy's DVD Review: 'Fast Five', 'Scream 4'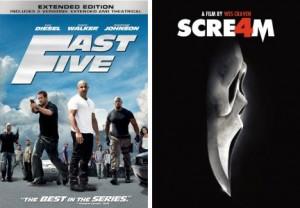 Fast Five – Vin Diesel and Paul Walker resume their homoerotic, nitro-fueled bromance in this car-centric action series, which caught a second wind after 2009's Fast & Furious.
This time the guys are both outlaws, with Diesel getting sprung from a lifetime sentence in prison in the opening scenes, and the operation heading to Brazil while a harscrabble g-man (Dwayne Johnson) hot on their tailpipes. The series is all about dumb, silly fun, and the latest film excels at producing laughs by hitting its marks and adding some unintended comedy. Extras include deleted scenes, director commentary and retrospectives on the Diesel and Walker characters.
Article continues below advertisement
THE PHILMGUY REVIEWS — MONEYBALL STARRING BRAD PITT & JONAH HILL
African Cats – Disney takes to the African savanna to scoop up some staggering footage, awkwardly cramming the video into inspirational narrative arcs about a single-mother cheetah and a determined lion who fends of challenges from competitors. The narration adds little to the powerful imagery, which is skilfully edited to squeak into a G rating. There are a smattering of conservationist-minded featurettes, as well as a Jordin Sparks music video.
The Cider House Rules Blu-ray – The 1999 coming-of-ager stars a pre-Spider-Man Tobey Maguire as a teen living in an orphanage who bristles under the careful guidance of his headmaster (Michael Caine) and determines his fate while falling in love with an around-the-way girl played by Charlize Theron. This is overserious Oscar bait through and through, making the movie easier to respect at a distance than genuinely love. Deleted scenes, director commentary and a making-of doc fill out the disc.
Article continues below advertisement
Friday the 13th: The Ultimate Collection – While not as "ultimate" as the title would have you believe -- the set includes the first eight movies in the series, lacking Jason X, Freddy vs. Jason and the 2009 reboot — and disappointingly is available only on DVD and not Blu-ray, this is still tough to avoid for Jason fanatics. The films come packed in with a small replica of the killer's hockey mask, an 8-page booklet and presumably all the extras that came on previous DVD releases.
How I Met Your Mother: Season 6 – Dubbed "The New is Always Better" edition, the sitcom about late-20s/early-30s New York circle of friends continues to impress, now pretty much openly mocking the concept that it will ever get around to solving the plot point addressed in the title. Katy Perry headlines a strong lineup of guest stars, which also includes Rachel Bilson and Nicole Scherzinger. Deleted scenes, a gag reel and commentaries highlight the extras.
Article continues below advertisement
In Treatment: Season 3 – In the excellent HBO series I can't seem to convince anyone to give a shot, Gabriel Byrne continues to impress as a troubled psychotherapist who juggles difficult patients while coping with his own emotional and physical shortcomings. Divided into days of the week, with each episode focusing on a different patient, the dialogue-heavy drama boasts some of the strongest writing on TV. The four-disc set is light on extras.
THE PHILMGUY'S DVD REVIEW: TRANSFORMERS: DARK OF THE MOON; BEN-HUR
Jackie Brown Blu-ray – Quentin Tarantino's sprawling 1997 crime caper flick rounds up Pam Grier, Robert De Niro, Samuel L. Jackson, Bridget Fonda, Robert Forster and Michael Keaton in a tale of drug and gun deals, double-crosses and rapidfire dialogue exchanges. Though slower than Tarantino's other opuses, such as Reservoir Dogs, Pulp Fiction and Kill Bill, Jackie Brown offers some of the filmmaker's deepest characters. The extras on the Blu-ray are mostly the same ones ported over from the DVD, save for a retrospective from a movie critic point-of-view.
Article continues below advertisement
The Lion King Blu-ray – Likely Disney's last great venture into traditional animation, the 1994 universally beloved gem roars onto HD. Boasting memorable songs by Elton John, the saga tells the story of Simba, a young lion prince who is tricked out of his birthright by his duplicitous uncle and goes into exile, where he matures and returns to fight to save his friends and family. The Blu-ray/DVD combo, mysteriously lacking a digital copy, includes commentary, singalong tracks, outtakes, an extended scene, deleted scenes and a retrospective documentary with filmmaker interviews.
Planet Earth Special Edition – The mesmerizing 2006 BBC series helped justify early purchases of Blu-rays and HDTVs with its masterful exploration of nature around the globe. The five years haven't dulled the brilliance of the timeless, physics-defying photography, that's almost thrilling enough to make a couch potato consider venturing outside once in a while. The original set included countless extras, and the rerelease considerably one-ups that one, including a documentary about the effects the series had on environmental policy around the world and a preview of the upcoming series Frozen Planet.
Article continues below advertisement
Pulp Fiction Blu-ray – The 1994 film that made Tarantino a household name somehow seems even better than it did at the time, with its intentional retro-quirkiness taking on an extra level of meta-cool. Samuel L. Jackson, Uma Thurman, John Travolta, Tim Roth, Christopher Walken and Bruce Willis romp their way through this tapestry of interrelated crime tales, all infused with fantastic dialogue. It's just about inexcusable for anyone who loves film not to own this movie. Current cast interviews and a critical retrospective are among the new features on the Blu-ray, which also brings over the stuff from the DVD.
Scream 4 – Stumbling into theaters 11 years after the last film in the near-forgotten Wes Craven horror mockery, there was little reason to believe the fourth film would be worthwhile. While the series appears to have lost its funny bone, it hones its horror bona fides, crafting some excellent scares and suspense. Neve Campbell reprises her role as Sidney, who is now a famous author returning to her hometown after a decade, only to see a masked, phone-taunting killer spring back into action. The ensemble cast brings back David Arquette and Courtenay Cox, while also adding new blood in the form of Hayden Panetteire, Emma Roberts, Alison Brie and Adam Brody. The Blu-ray/digital copy combo includes deleted scenes, Craven-Panettiere-Roberts commentary and a making-of featurette.