NEWS
The PhilmGuy's DVD Review: Fight Club; Gone with the Wind; & Kevin Smith Collection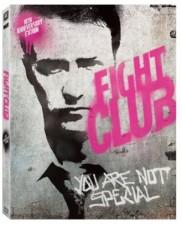 Fight Club 10th Anniversary Edition – David Fincher packs a clever little gag into the Blu-ray's menu – a sign of the subversive wonders to come within the spectacular drama, one of the finest movies of the 1990s. The movie looks brilliant in high definition but the extras are a little on the weak side for what you'd hope for from a decade-later tribute. All of the memorable stuff from the previous DVD incarnations are back, along with an in-depth look at the sound design, as well as a look at Fincher, Brad Pitt and Ed Norton accepting a recent Spike TV award for the film.
Article continues below advertisement
Gone with the Wind 70th Anniversary Ultimate Collector's Edition – Were it not released so closely after the glorious, unbeatable The Wizard of Oz Ultimate Collector's Edition this would shine brighter. But as it stands, this magnificent 5-disc set makes you wonder why no digital copy of the movie was included and why it doesn't come with any spectacularly unnecessary bonus akin to the wristwatch in the Wizard of Oz set. At least the movie absolutely sings in Blu-ray (the set is also out on DVD, but you're selling yourself short if you go standard definition), dwarfing all previous releases with its eye-sizzling colors and penetrating detail. The extras that are in the shoebox-size edition are still impressive, with hours of documentaries, retrospectives and commentaries, plus a hardbound book.
Heat – Released Nov. 10 on Blu-ray for the first time, Michael Mann's 1995 crime opus stars Al Pacino and Robert De Niro back before both had given up on their careers and become caricatures of themselves. The drama is a dense, cerebral cat-and-mouse affair that really pops in high-definition. Don't go in expecting more than the standard extras (commentary, deleted scenes and making-of docs) that were also in the DVD, though.
Article continues below advertisement
Humpday – An overlooked indie gem that rocked Sundance, this mumblecore comedy stars Mark Duplass and Joshua Leonard as best pals who overdo it during a night of boastful drinking and end up committing to make a gay porno together, both friends, who are straight, playing an apparent game of chicken, hoping the other blinks first. Deleted scenes and commentary are on the disc.
The Kevin Smith Collection – While it's ludicrous to call something "The Kevin Smith Collection" that doesn't include Mallrats, one of the greatest comedies ever made, this Blu-ray trio makes for a sufficient starter set of the Gen-X icon, including blowout editions of Clerks, Chasing Amy and Jay and Silent Bob Strike Back, with new special features added to the first two while Jay and Silent Bob is the same Blu-ray that already came out. Clerks bizarrely includes the long-sought Jay and Silent Bob making-of doc, and Chasing Amy is jammed with retrospective wonders, including a heartbreaking conversation between the director and his star/ex-girlfriend, Joey Lauren Adams.
Villarreal's humorous money-saving book, Secrets of a Stingy Scoundrel, is available at bookstores and on Amazon.