NEWS
The PhilmGuy's DVD Review: 'The Fighter'; 'The Switch'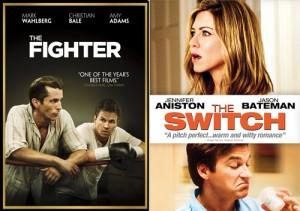 The Fighter – Mark Wahlberg stars in this Rocky-like true story as struggling boxer Micky Ward, who battles through nonstop adversity to reach a title shot. Supporting actor Oscar winners Christian Bale and Melissa Leo take turns swiping scenes as Micky's delusional drug-addled brother and overbearing, sadistic mother. The Blu-ray/DVD/digital combo includes deleted scenes, a making-of doc and director David O. Russell's commentary.
Article continues below advertisement
Excalibur Blu-ray – The 1981 take on the King Arthur legend is an endlessly thrilling medieval action flick, with a saucy vintage performance by Helen Mirren as an evil sorceress who serves as the foil to Merlin. Nigel Terry makes for a fascinating King Arthur who's easy to root for, and the special effects, looking gorgeous in HD, are top-notch. Director John Boorman provides a commentary track.
THE PHILMGUY REVIEWS: RED RIDING HOOD STARRING AMANDA SEYFRIED
Hemingway's Garden of Eden – Mena Suvari and Jack Huston play a bored, rich couple who undergo a shared sexual awakening when they meet a sexy straggler (Caterina Murino) who tempts and manipulates both of them. I've never read Hemingway's original story, but apparently the great author was well-versed on the creation of late-night Skinemax-like guilty pleasures. Don't expect much in the way of special features.
Article continues below advertisement
Hereafter – The usually reliable Clint Eastwood directs a misshapen bore of a drama, featuring several interrelated characters whose plight explore life, death and the human condition in agonizingly dull ways. Matt Damon is the headliner as a conflicted psychic who's pressured by his brother (Jay Mohr) to make a buck off his ability. The Blu-ray/DVD/digital copy combo includes several extras, including some intriguing interviews with Eastwood and Damon meditating on the roles of psychics and skeptics.
THE PHILMGUY'S DVD REVIEW: MORNING GLORY; THE WALKING DEAD
Sharktopus – In this reserved, stuffy art film, a shark/octopus hybrid developed by the government as a weapon gets loose to wreak havoc on the populace. A surefire Oscar contender, the pretentious dialogue and overenthusiastically academic-minded script makes the film destined go over the head of most audiences, but studied intellectuals will be able to appreciate its subtle delights. Either that or this is just a fun, D-movie exploitation flick. The disc is light on extras, but what more can you ask for from a DVD than the presence of Sharktopus?
Article continues below advertisement
Sugar Boxx – Sure, Sharktopus may be the film of choice among the intellectual elite, but this subtle, metaphor-laden drawing-room drama about a female reporter who masquerades as a hooker in a Florida prison is its equal in many ways. The gratuitous nudity is no doubt an irony-laden symbol of society's struggle against the public expression of human sexuality, and the poor acting by non-star amateurs is likely a commentary on pop culture's obsession with celebrity and talent. Or, possibly, it's borderline soft-core porn with some cool action scenes. The extras boast a making-of featurette classily dubbed "Inside the Boxx."
THE PHILMGUY REVIEWS: THE ADJUSTMENT BUREAU
Who Do You Think You Are? – The NBC geneaology-based series explores the family trees of such luminaries as Spike Lee, Brooke Shields, Emmitt Smith and Sarah Jessica Parker. Entertaining as well as informative, the show manages to surprise, educate and raise eyebrows. There isn't much in the set in the way of bonus features.
The Switch – Jennifer Aniston and Jason Bateman, neither of whom should be allowed near a romantic comedy script without approval from federal authorities, join forces for a nearly unwatchable romantic comedy with a disturbing premise. Aniston is a middle-aged woman who artificially inseminates herself in order to have a baby before it's too late, and Bateman is her pining, friend-zone-cursed pal who switches his sperm with the sample she plans on using. Of course this ends up as the premise for the couple to fall into everlasting love, rather than causing Bateman's character to land in federal prison. A weak slate of extras reflects the lack of thought and effort the filmmakers put into the tale.