NEWS
The PhilmGuy's DVD Review: 'Gossip Girl' Season 4; 'The Greatest Movie Ever Sold'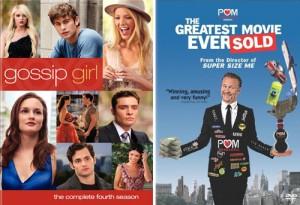 Gossip Girl: Season 4 – The CW soap opera about the comings and goings of Manhattan elites ditches Taylor Momsen and Jessica Szohr in favor of more screentime for Kaylee DeFer. The series may have lost its new car smell, but still packs plenty of soap opera-style twists and turns. Deleted scenes, a gag reel and featurettes top off the package.
Bambi II Blu-ray – As unnecessary, decades-late sequels go, you could do worse than 2006's Bambi II, a father-son tale in which Bambi's dad teaches him the ways of the world. The movie can't recapture the magic of the original, but that's not much of a knock because few animated movies can. The Blu-ray/DVD combo includes Friend Owl and Thumper games, trivia and a tutorial on how to draw Thumper.
Article continues below advertisement
THE PHILMGUY'S DVD REVIEW: THE BANG BANG CLUB; SOMETHING BORROWED
Rounders Blu-ray – Matt Damon and Edward Norton are to be blamed for propagating the never-ending, it's-over-but-it-isn't poker craze with this spectacular 1998 drama, in which they star as poker-crazed pals who pull cons to scrape their way out of debt. Eminently quotable, and featuring a loony tunes turn from John Malkovich as the Russian end-boss villain, Rounders is a 1990s dorm room classic that endures. Commentary, poker tips, making-of featurettes and poker pros talking about the film make for a solid set of extras.
THE PHILMGUY REVIEWS: 30 MINUTES OR LESS STARRING JESSE EISENBERG & AZIZ ANSARI
Swingers Blu-ray – My second-favorite movie ever — second only to Waking Life — makes its long-awaited Blu-ray debut. The 1996 comedy pairs Jon Favreau and Vince Vaughn as L.A. buddies in their mid-20s struggling to make a go of it in the entertainment world. Favreau, the driving force who got the film made, penned the greatest script ever written. Nearly every line of dialogue is funny and memorable, the story packs a devastating emotional punch and the film brims with truths about the difficulties of friendship, romance and careers. The special features seem to be transferred from the excellent DVD release, but I'm glad that's the case because the commentary with Favreau and Vaughn is spectacular.
Article continues below advertisement
Win Win – Paul Giamatti plays a sad-sack lawyer and high school wrestling coach who takes in the teen grandson (Alex Shaffer) of a client in order to scam some easy money and use the kid to make his team better. The boy's mother (Melanie Lynskey) complicates things when she enters the picture. Deleted scenes and an interview with Giamatti and director Tom McCarthy highlight the extras.
The Greatest Movie Ever Sold – Appearing very much in love with himself, documentarian Morgan Spurlock exposes the secret world of movie product placement, seeking to sell out in every manner possible to any advertiser willing to cooperate. Spurlock (Super Size Me) toes the line between expose and desperate whoring as he records himself seeking to land sponsors for his scattershot venture, and the spectacle is so awful that it's fascinating. Particularly amusing is Spurlock's guarantee to his sponsors that the movie will gross $10 million, whereas in reality it struggled to make more than $600,000. Deleted scenes, commentary and commercials based on the movie are included.