NEWS
The PhilmGuy's DVD Review: 'Homeland' Starring Claire Danes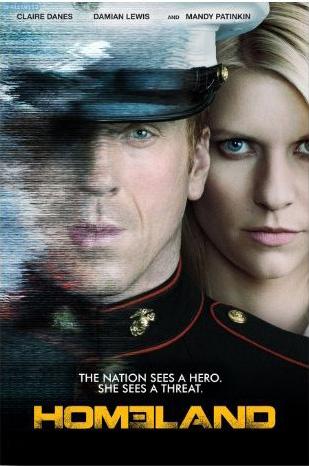 Bored to Death: Season 3 — One of the quirkier series in HBO's stable, the noir-themed detective yarn stars Jason Schwartzman as a struggling writer who doubles as a quixotic private eye. His unreliable support network consists of an egotistical magazine editor (Ted Danson) and an out-there comic book artist (Zach Galifianakis). Schwartzman's character searches for his biological father and deals with moderate success when he gets a long-awaited book published. HBO pulled the plug on the show after this season, which is disappointing because it was just beginning to find its stride. Deleted scenes, behind-the-scenes peeks at each episode and commentaries from the cast and directors highlight the extras.
Article continues below advertisement
OK!'S PHILMGUY REVIEWS COSMOPOLIS STARRING ROBERT PATTINSON
Harvey Blu-ray — In the whimsical yet somewhat hard-edged 1950 comedy, Jimmy Stewart plays a man whose best friend is a giant rabbit that only he can see. In something close to a one-man show, Stewart's earnestness makes his character adorably sympathetic. Josephine Hull, who won the best supporting actress Oscar for her role as his skeptical sister, manages to swipe her share of scenes. The Blu-ray/DVD/digital copy combo includes an intro by Stewart and production notes, but little else.
High School — The shamelessly dumb yet disarming pot comedy in the vein of Half Baked and How High puffs laughter into your living room. Adrien Brody as a ruthless drug dealer who gets tangled up with a pair of high school kids (Sean Marquette and Matt Bush) who are determined to get the entire student body high in a scheme to invalidate the damning results of a mandatory drug test. The plot is incomprehensibly stupid, but you'll probably be laughing too hard to notice. Deleted scenes and filmmaker commentary make up the extras.
Article continues below advertisement
Homeland: Season 1 — Claire Danes makes a heck of a TV comeback in this tense, addictive Showtime drama. In the role that won her a Golden Globe, she plays a CIA agent who investigates a returned prisoner of war (Damian Lewis) whom she thinks might be a sleeper terrorist. Forced to skirt the rules in order to prove her hunch and protect the country, she sinks deeper and deeper into a rabbit hole of conspiracies and misdirection from which there seems to be no escape. Extras include deleted scenes, a making-of featurette and a preview of season 2.
How to Make it in America: Season 2 — One of my favorite HBO shows got the axe after a strong second season. Bryan Greenberg and Victor Rasuk play best pals who try to make ends meet while breaking into the clothing design industry by any means possible. As they edge closer to success, they forge alliances on the social scene, entertain high rollers, and even dabble a bit in organized crime. There's an upbeat, Entourage-like feel to the show that makes it easy to root for the protagonists, so it's a shame we'll never get to see how their efforts ended up. Commentary tracks on trhee episodes and making-of featurettes make up the extras.
Article continues below advertisement
OK!'S THE PHILMGUY REVIEWS THE DARK KNIGHT STARRING CHRISTIAN BALE AND ANNE HATHAWAY
Hung: Season 3 — Yet another HBO show that has breathed its last, the dark comedy stars Thomas Jane as a divorced dad who supplements his low-paying teacher job by becoming a gigolo. The grating Jane Adams, as Jane's disheveled pimp, drags down some witty storytelling and a solid anchor performance by Jane. The third season is by far the weakest of the series, so it's not surprising to see Hung fade away on a down note. Deleted scenes, commentary on four episodes, an alternate ending for the season finale and a smattering of throwaway featurettes rounds out the package.
My Sucky Teen Romance — The product of teen horror filmmaker prodigy Emily Hagins, the high school vampire romance mocks the bloodsucker-obsessed pop culture world while simultaneously sucking the lifeblood from its veins. Rounding up a gang of raw, fresh-faced actors, Hagins tells the story of a group of friends at a sci-fi convention who encounter real-life vampires and try to use knowledge gleaned from movies and comic books to stay alive. The dialogue and story twists are entertaining, but the amateurish acting drags the production down to student film levels. The movie didn't do it for me, but I'd like to see what Hagins could do with a better cast and budget. Extras on the disc are slim.
Article continues below advertisement
The Office: Season 8 — Without Steve Carell, the once-brilliant workplace comedy sinks into oblivion, only occasionally flashing shadows of its former glory. There's still plenty of talent in the cast, with Ed Helms, Rainn Wilson, John Krasinski and Mindy Kaling given more room to flash their comic wares, but the sit-com's heart and soul have vanished. The Blu-ray set includes digital copies, extended episodes, 100 minutes of deleted scenes and webisodes.
Piranha 3DD — Piggybacking on the out-of-nowhere success of the 2010 romp, Piranha, the sequel peppers a few oddball has-beens (David Hasselhoff, Christopher Lloyd, Gary Busey and David Koechner) among a young, nubile cast full of piranha bait, the most recognizable of the younger lot being Katrina Bowden, who plays Cerie in 30 Rock. Koechner plays a clueless waterpark magnate who hires strippers as lifeguards and builds his oasis atop a well that draws from an underground lake swarming with a piranha species long thought extinct. The unapologetically schlocky gore-fest dishes out equal servings of grotesque kills, giggles and gratuitous nudity. This is the sort of movie you know you''ll either adore or despise going into it. Count me among the former camp. The combo pack includes a 3D Blu-ray version of the movie for those with capable TVs, as well as the 2D Blu-ray, a DVD and digital copy. Extras include filmmaker commentary, behind-the-scenes looks at Hasselhoff, Busey and Koechner, as well as deleted scenes.
Article continues below advertisement
Sixteen Candles Blu-ray — In the prototypical John Hughes 1980s teen romantic comedy, Molly Ringwald plays a girl on the verge of her 16th birthday who feels ignored by her family. She longs for the coolest guy in school (Michael Schoeffling), tries to fend off advances from a geek (Anthony Michael Hall) and suffers through endless adolescent humiliations. Joan and John Cusack make memorable impressions, as does Gedde Watanabe as exchange student Long Duk Dong. The infinitely rewatchable movie is a time machine that takes you back to 1984 with a smile. The Blu-ray/DVD/digital copy combo includes a few light background featurettes.
Sons of Anarchy: Season 4 — FX's biker gang drama revs up echoes of The Sopranos and Breaking Bad. The series gets bold in its fourth season, unafraid to rattle the core of the leadership dynamic by creating a sharp divide between its old leader (Ron Perlman) and his heir apparent (Charlie Hunnam). Both actors do amazing work in the series, but the spiritual center continues to be Katey Sagal's tough-as-steel character, whose influence on the gang is subtle yet unmistakable. Deleted and extended scenes, a look at the series' fans and commentary on a few episodes make up the extras.
Article continues below advertisement
The Terminator Anthology Blu-ray — All four Terminator movies, scary red-glowing eyes lit up, blast their way onto Blu-ray together in a 5-disc set that's only sold at Best Buy. The Terminator (1984), Terminator 2: Judgment Day (1991), Terminator 3: Rise of the Machines (2003) and the weak, Arnold Schwarzenegger-less link, Terminator: Salvation (2009). There's little, if anything, memorable in the form of extras that mega-fans of the genre have yet to see, but at least the set is complete, with eight hours of behind-the-scenes geekery, providing the best Blu-ray version of each film in the package. It would have been nice to have included digital copies of the movies as well.
Umberto D Blu-ray — Italian master Vittorio De Sica delivers a passionate 1952 fable about a broken down old man who struggles to get by as his country staggers in the aftermath of World War II. With his lone companion, a dog, at his side, he sinks to desperate depths to keep a roof over his head and food in his belly. The moving and melancholy yet inspiring tale is an emotional whirlwind. The Criterion Blu-ray includes an hourlong documentary about De Sica's career, a tribute booklet with an essay by a film historian and a rare 2003 retrospective interview with an actress from the film.