NEWS
The PhilmGuy's DVD Review: 'Inglourious Basterds' and 'The Hangover'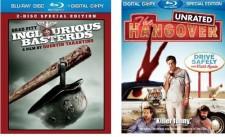 Inglourious Basterds — Quentin Tarantino had talked up his way-way-way over-the-top World War II magnum opus for so long that it was nearly impossible for the end result to live up to the hype, but somehow the movie actually surpassed what I expected. Brad Pitt and a bunch of nobodies star as a group of Jewish American soldiers who form a brutal special forces squad that infiltrates Nazi strongholds and exacts hilariously brutal vengeance. The scenery-chewing and hyperkinetic displays of WTF silliness carry the day. As with all Tarantino films, the DVD is loaded, including extended scenes, off-beat interviews and featurettes and a tribute to the 1978 Italian film that inspired this one. There's also a digital copy, but sadly no Tarantino commentary, which is also par for his course. The Blu-ray doesn't have any extra content but looks so damn good that it's well worth springing for the upgrade.
Article continues below advertisement
The Hangover — Groomsmen try to piece together what went on during a night of drunken Vegas bachelor party revelry that left the groom-to-be AWOL and involved a tiger, a baby and Mike Tyson. The funniest movie of the year gets a fitting DVD and Blu-ray tribute, with loads of silly behind-the-scenes features that make it appear as though filming was one long bachelor party, plus the always-nice digital copy. Tyson checks in on the Blu-ray for a fitting bizarre intro. The Blu-ray also has picture-in-picture commentary and a mash-up of swear words. I only watched the Blu-ray but am guessing you can easily get by with the DVD version.
G-Force — It's not as though you go with high expectations into a kiddie flick about secret agent guinea pigs, but G-Force somehow finds a way to stoop under whatever low bar you set for it. The writers try to be clever and ironic, but a strong voice cast (Nicolas Cage, Jon Favreau, Penélope Cruz, Steve Buscemi and Tracy Morgan) just doesn''t have enough to say. A better-than-deserved Blu-ray includes special features that are far better than the movie itself, including comprehensive looks at how the special effects were made, plus a digital copy. The DVD is almost as well-stacked, sans the special effects stuff.
Article continues below advertisement
The Mel Brooks Collection — Several of the movies in this 9-disc Blu-ray set (High Anxiety, History of the World Part I, To Be or Not to Be and The Twelve Chairs) are middling or terrible, but there are some all-time classics here: Blazing Saddles, Spaceballs and Young Frankenstein, plus the highly re-watchable Silent Movie and Robin Hood: Men in Tights. Sometimes these special collections have cheapo discs that lack the special features of previous versions, but that's not the case here. The films come with a brilliant retrospective book that analyzes Brooks' astounding career. The $93 Amazon price is steep unless you're a Brooks freak.
The Tudors: The Complete Third Season — The stunning Showtime drama on the promiscuous, beheading-crazy regime of obsessive, charismatic King Henry VIII (Jonathan Rhys Meyers), who took several wives, most of which he had killed or divorced, invented his own religion and squandered a royal fortune through decadence. The lone extra, other than a couple episodes of The United States of Tara, is a timeline featurette about Henry VIII's line.