NEWS
The PhilmGuy's DVD Review: 'Iron Man 2'; 'Get Him to the Greek'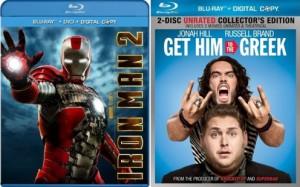 Iron Man 2 – Many moviegoers seemed to have viewed the sequel as a letdown, but I appreciated its quieter, nuanced approach to the iron-suited superhero played by Roberty Downey Jr. The movie may lack constant action, but it works well as a character study, with director Jon Favreau exploring billionaire/vigilante Tony Stark's self-destructive tendencies. The Blu-ray for the original Iron Man was one of the most impressive at the time, and the follow-up doesn't disappoint, armed with a digital copy, Favreau's commentary, extensive looks at the visual effects and deleted scenes.
Article continues below advertisement
THE PHILMGUY REVIEWS: THE LEGEND OF THE GUARDIANS: THE OWLS OF GA'HOOLE
American Beauty Blu-ray – The 1999 best picture Oscar winner hasn't lost a beat in the decade-plus since its release, delving past the happy façade of suburbia to reveal torrents of existential angst. Kevin Spacey simmers as a middle-aged father stuck in a decaying marriage to a philandering wife (Annette Bening) and guilt-ridden with his obsession with an underage cheerleader (Mena Suvari), a friend of his daughter's (Thora Birch). Unfortunately, Paramount didn't spend the past 11 years readying for blowout special features. All you get is filmmaker commentary and storyboards
Babies – A plodding French documentary peeks in on several infants that span several continents and social classes, making for an adorable but inconsequential collection of home movies. I'd had about enough at the 45-minute mark when I originally saw the movie in theaters, and the film certainly doesn't gain anything on an additional viewing. You'll find a follow-up featurette that peeks in on the families three years after filming and a collection of fan-submitted baby photos as extras on the Blu-ray.
Article continues below advertisement
THE PHILMGUY'S DVD REVIEW: ROBIN HOOD; MODERN FAMILY
How I Met Your Mother: Season 5 – Dubbed "The Suited Up Edition" – aren't they all? – the spiritual successor to Friends shows no sign of slowing down as it reaches the half-decade mark, with impossibly funny Neil Patrick Harris thriving as womanizer Barney Stinson, who navigates the dating scene with pals played by Alyson Hannigan, Jason Segel, Josh Radnor and Cobie Smulders. The DVD set takes you behind the scenes of the 100th episode, features a gag reel and some commentary tracks.
The Killer Inside Me – Casey Affleck plays a dirty Texan sheriff's deputy who juggles allegiances to his boss, a businessman who pulls all the strings, his girlfriend (Kate Hudson) and his prostitute mistress (Jessica Alba). Those used to seeing the younger Affleck as a meek nice guy will get a shock out of his shoot-from-the-hip, relentlessly cruel and violent character in the film. Don't rent this one unless you can stomach some brutally disturbing scenes. The Blu-ray is light on extras.
Article continues below advertisement
King Kong (1933) Blu-ray – The lean, cleverly-constructed film that arguably gave birth to the monster movie genre looks fresh and sharp in HD, rather than grainy and washed out as it did on most previous DVD and VHS versions. The movie itself is only a tiny fraction of the impressive content in the set, which includes packaging that doubles as a book, a seven-part making-of documentary, commentaries, interviews and trailers of other films by visionary director Merian C. Cooper.
Party Down: Season 2 – Starz doesn't get enough respect as a premium cable network, but shows like this and Spartacus: Blood and Sand vault it into competition with HBO and Cinemax in my book. Adam Scott, Lizzy Caplan and Martin Starr play showbiz wannabes who are stuck working dead-end, minimum-wage jobs at a catering company. Their struggles to keep a positive attitude while slogging through their mundane realities make for ample opportunities for stinging humor. The DVD set is pathetically bare-bones, with only a gag reel to keep you distracted once you've blown through the 10 episodes.
Article continues below advertisement
THE PHILMGUY'S DVD REVIEW: GLEE; IT'S ALWAYS SUNNY IN PHILADELPHIA
Superman/Batman Apocalypse – An action-heavy, PG-13 animated film teams the two superheroes in a ludicrous plot that sends them to a distant planet to battle universe-threatening villain Darkseid. Superman's cousin, Supergirl, plays heavily into the story, and there's even a gag-inducing segment that includes Krypto the Super Dog. The movie is an entertaining lark but disappointing compared to other Superman-Batman team-ups. The Blu-ray includes a digital copy and a look at the history of Supergirl.
Get Him to the Greek – In a spin-off of Forgetting Sarah Marshall, Russell Brand reprises his role as a hard-partying, oblivious rock star who causes chaos wherever he goes. Jonah Hill plays his beleaguered handler who wants to resurrect the Brand character's career by escorting him to a comeback concert. Just like Forgetting Sarah Marshall, the humor is wildly erratic, ranging from uproarious to head-scratching dullness. Some hail this as the funniest movie of the year, but count me out of that crowd. The Blu-ray bursts with a digital copy, deleted and extended scenes, audition tapes and a sing-along reel.
Phil Villarreal's humorous money-saving book, Secrets of a Stingy Scoundrel, is available on Amazon.