NEWS
The PhilmGuy's DVD Review: 'Limitless'; 'Take Me Home Tonight'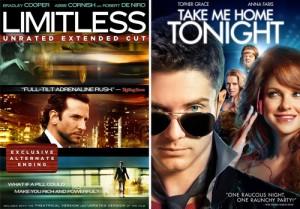 Limitless – If you're a video game fan who's got any doubts about director Neil Burger and star Bradley Cooper adapting Uncharted into a movie, this gripping, thought-provoking thriller should get rid of them. Cooper plays a struggling writer who happens upon a drug that unlocks his entire brain capacity and sends him toward instant success in all areas of life. Like any Twilight Zone episode, however, the good stuff comes at a severe price, entangling Cooper in a deadly battle of wits with a Wall Street type (Robert De Niro), as the drug undoes him from within. The Blu-ray/digital copy combo includes an alternate cut and a bonus ending, but little else of interest.
Article continues below advertisement
Amelie Blu-ray – Audrey Tautou burst onto the scene in this whimsical 2001 French comedy, playing a quiet young woman who operates like a ninja to improve the lives of those around her, only to neglect her own happiness. The disc is light on extras.
THE PHILMGUY REVIEWS: HARRY POTTER AND THE DEATHLY HALLOWS - PART 2
Animal House – John Belushi runs roughshod in this 1978 comedy about a rowdy fraternity, circa 1962. Raunchy and sexually explicit for its time, the film seems tamer and quaint by today's standards. But the humor remains intact, and Belushi's stunning genius has lost none of its luster. The Blu-ray seems to be a copy of the old HD-DVD, which is okay because that format is dead, and the entertaining slate of extras, including a "where are they now?" doc, are still here.
Beauty and the Beast (1946) Blu-ray – French master Jean Cocteau tells the classic fable with elegance, subtle metaphors and sexual tension, making the movie one for anyone who loves the story, and not just the film geeks who tend to worship the film. Criterion does its usual spectacular job of supplementing the film with all conceivable angles of extras and analysis, including two commentaries from historians, publicity stills, interviews and a tribute booklet.
Article continues below advertisement
The Blues Brothers – John Belushi and Dan Aykroyd team for this completely nonsensical, and thus thoroughly amazing, 1980 comedy, one of the few respectable films to evolve from Saturday Night Live sketches. The movie, which follows the exploits of the musician/outlaw brothers, is inspired mayhem that gets better with each viewing, and although high-definition does nothing for the movie's intentionally ugly look and the special features are blase, the movie is still pretty much a must-own.
Boyz N The Hood Blu-ray – The 1991 coming-of-ager is set in South Central L.A., which is seeping with street gangs and broken dreams. Ice Cube, Morris Chestnut, Cuba Gooding Jr., all knee-high to a grasshopper, play young men trying to get out of the ghetto with their bodies and integrity intact. The moralizing and treacly plot twists come off as heavy-handed 20 years after the fact, but the drama is still a mesmerizing time capsule. Director John Singleton's commentary, deleted scenes and a making-of featurette are all here.
Article continues below advertisement
Bridget Jones's Diary Blu-ray – Renee Zellwegger tries out a British accent in this 2001 romantic comedy, in which she plays an unlucky-in-love wallflower who becomes the focal point of a love triangle involving Hugh Grant and Colin Firth. The extras, which include deleted scenes and several featurettes, are the same you'll find on older DVD releases of the movie.
Cracks – Eva Green stars as a maverick teacher at an all-girls British Boarding school in the 1930s who becomes the focal point of a sexual tension-laden rivalry between the school's most popular girl (Juno Temple) and a visiting student (Maria Valverde) from Spain. Exquisite writing and cinematography make the drama an overlooked gem. Cast interviews and behind-the-scenes featurettes headline a slim selection of extras.
The Smurfs: A Magical Smurf Adventure – If you watched and loved Smurfs as a kid, you may find that the series doesn't hold up as well as you'd hoped it would. I found the 10 episodes to be shrill and annoyingly poorly animated, with production values that pale in comparison even to the unimpressive likes of Thundercats and Masters of the Universe. Those interested in a nostalgic fling should give it a try, but don't be surprised if you identify with Gargamel and want to go smurf-stomping afterward.
Article continues below advertisement
Tekken – The only reason I wanted to watch this adaptation of a fighting video game was to see how awful it was. To my disappointment, Tekken is actually a solid film, only loosely based on the rail-thin plot from the games. A gaggle of non-stars strut their stuff in a post-apocalyptic, corporately-dominated world that's reminiscent of The Hunger Games. People with nothing to live for slug it out in a deadly fighting tournament, which ends up being the backdrop for a compelling B-movie action romp. The Blu-ray/DVD/digital copy combo is light on compelling extras.
Torchwood: The Complete Original UK Series – The BBC-produced geek touchstone, about a group of alien hunters who juggle interplanetary concerns with their ever-evolving sex lives, comes on 14 discs. It's not for all tastes, but has a way of hooking you if you give it a few episodes. The extras are decent and well-rounded, but there's nothing spectacular here.
Take Me Home Tonight – An intentionally cheesy send-up of 1980s culture stars Topher Grace as a slacker who pretends to be a high-powered finance guy as he pursues an out-of-his-league material girl (Teresa Palmer) at a wild party. Anan Faris steals scenes as Grace's disdainful twin sister, but the movie's limp attempts at humor can't capture much magic. The Blu-ray/digital copy combo includes several deleted scenes and a jukebox filled with 80s tunes ("Bette Davis Eyes," "Come on Eileen") you're probably sick of by now.