NEWS
The PhilmGuy's DVD Review: 'The Pacific'; 'Toy Story 3'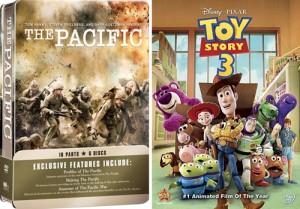 The Pacific – HBO's stunning 10-part World War II miniseries recaptures the grisly majesty of Band of Brothers, following a regiment through a series of bloody, desperate island battles to turn back Japanese forces.
Each segment is preceded by a mini-documentary with actual footage from the war, with voiceover from veterans recalling the heroism and devastation they experienced six decades ago. Extras abound in the treasure trove of a set, with making-of documentaries, looks at the real lives of the troops and an interactive field guide that lets you recount the major events of the war.
Article continues below advertisement
THE PHILMGUY'S DVD REVIEW: BACK TO THE FUTURE; WINTER'S BONE
The Bridge on the River Kwai Blu-ray – Director David Lean's subversive 1957 war epic, about British World War II prisoners of war forced to build a bridge that will aid the Japanese cause, looks as magnificent as you'd expect in high definition. The set includes the DVD version of the movie, footage from the premiere, making-of documentaries and a photo gallery.
The Goonies: 25th Anniversary Ultimate Collector's Edition Blu-ray – It saddens me that movie fans in their early 20s and younger may not have heard of this fantastic adventure, about a group of geeky youngsters who go hunting for lost pirate treasure in order to keep their parents from losing their houses. Along the way you'll find Truffle Shuffles, share candy bars with Chunk and traverse booby-trapped caverns. The jumbo-sized box includes a silly board game, storyboard prints and a where-are-they-now magazine article about the cast. On the disc you'll find deleted scenes, cast commentary, a making-of doc and the iconic Cyndi Lauper music video "The Goonies 'R Good Enough."
Article continues below advertisement
THE PHILMGUY REVIEWS: HEREAFTER
The Larry Sanders Show: The Complete Series – Garry Shandling's finest hour came in this 1992-1998 comedy/drama series, in which he played a David Letterman-like talk-show host who coped with pressures of the nightly grind. The insightful writing and snappy monologues – if only real-life late-night shows were this funny! – make the series shine. Previously unreleased outtakes, deleted scenes and loads of cast interviews give the show its due reverence.
Nip/Tuck: The Complete Series – Dylan Walsh and Julian McMahon star in this edgy 2003-2010 drama series as cosmetic surgeons who reshape bodies and egos, pushing their own ethical boundaries as they indulge in greed and vice while juggling their emotionally and physically needy clientele. The series is at its best in the earlier seasons before it devolves into shark-jumping outlandishness, but no matter how horrid the scripts become the acting is always top-notch. Extras include 11 background featurettes, gag reels and deleted scenes.
Article continues below advertisement
THE PHILMGUY'S DVD REVIEW: HOW TO TRAIN YOUR DRAGON; THE TUDORS
Toy Story 3 – The best and most emotionally charged movie I've seen this year – while watching I had to battle with all my might to avoid blubbering like a baby in multiple spots – gets a four-disc Blu-ray blowout with a digital copy and DVD version. Even if you're an extreme Toy Story fanatic you'll probably struggle to get through all the extras, which include a director's commentary, examinations of the art and shot design and a filmmaker's roundtable. And don't forget to watch "Day & Night" – the imaginative and deceptively hilarious short that preceded the film in theaters.
Toy Story Trilogy: Ultimate Toy Box Collection – The 10-Blu-ray set, which costs $65 on Amazon – $10 cheaper than if you buy all three movies separately – includes DVD and digital copies of each film, as well as all the bonus features. The sacrifice you'll have to make comes in the lame packaging, a cardboard toy box with cheap foam barely managing to hold the discs in place.
Check out Villarreal's blog at Becauseitoldyouso.com.