NEWS
The Philmguy's DVD Review: 'Precious' & 'Up in the Air'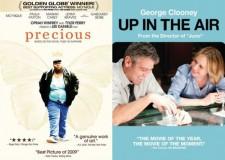 Precious: Based on the Novel Push by Sapphire – This stinging drama about an overweight high school girl (Gabourey Sidibe), the victim of rape and tremendous psychological and physical abuse, could easily be renamed de-Precious, but is well worth it for the lead performances of Sidibe and Mo'Nique, who plays her detestable mother. The Blu-ray includes a profile of Sapphire, the author who wrote the book that inspired the movie, as well as interviews with producers Tyler Perry and Oprah Winfrey, who helped the film into the spotlight.
Article continues below advertisement
Bitch Slap – A riotous B movie with a standout performance from the destined-for-stardom America Olivo, the action flick takes the Kill Bill aesthetic and runs with it, telling a story of three ass-kicking temptresses who battle criminals and one another to survive in a storm of treasure-hunting deceit. The plot doesn't matter because the movie is all attitude and visuals and is an unexpected treat. The lone notable extra is a behind the scenes doc.
The Boondock Saints II: All Saints Day – Ten years after the original cult shoot 'em up captured an audience, the lifeless sequel clunks along to get rid of it. It's a tale of Boston vigilantes who specialize in convoluted, jabbering plots to kill their enemies. The biggest name and best performance you'll find in the movie is Billy Connolly, which tells you a lot about the film. The Blu-ray and DVD both have deleted scenes and filmmaker commentaries, and the Blu-ray has a few extra featurettes.
Article continues below advertisement
Gentlemen Broncos – The latest from quirky director Jared Hess (Napoleon Dynamite, Nacho Libre) is a quirky comedy about an aspiring sci-fi author (Michael Angarano) who is burned by his idol (Jemaine Clement), a pretentious author who specializes in plagiarism. Sam Rockwell stars as the hero of the protagonist's oddball sci-fi visions. The movie is better than Nacho but nowhere near as electric or eclectic as Napoleon. The Blu-ray and DVD include outtakes, deleted scenes and commentary.
Up in the Air – George Clooney plays a travel-happy executive who uses constant city-hopping to shield himself from mortality. On the road he hooks up with a fellow jet-setter (Vera Farmiga), who seems like the female version of himself, for a fractured romance, and travels with a young up-and-comer (Anna Kendrick) who thinks she's got it all figured out. The Blu-ray includes commentary from director Jason Reitman, as well as storyboards.