NEWS
The PhilmGuy's DVD Review: 'Rocky: The Undisputed Collection' and 'North by Northwest'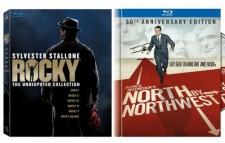 North by Northwest 50th Anniversary Edition — Alfred Hitchcock's indelible 1959 Cary Grant thriller races to Blu-ray in a package that doubles as an insightful book packed with North by Northwest trivia. Grant hits a career high in a breathless role as an innocent man mistaken for a government agent who has to go on the run to survive.
This is the first Hitchcock movie to go Blu, and the sprawling, elaborate set-piece heavy production glimmers in HD. New special features include tribute documentaries on Hitchcock and the movie's influence. The DVD boasts the same extras, sans the book packaging.
Article continues below advertisement
Rocky: The Undisputed Collection — Just as it seemed there was a new Rocky movie just about every year of the 1980s, it seems that every year brings a new Rocky compilation, each set incrementally more robust than the last. This year's Blu-ray only set is the best Rocky anthology yet because it's the first HD, meaning you can make out every meticulously designed bruise and lesion on Rocky's face as he takes his numerous beatings.
I didn't notice any special features on the two-hour bonus disc I hadn't already spotted in my numerous other Rocky collections, but really, what else is there to say at this point? I can only hope enough people buy this thing to convince Sylvester Stallone to throw caution into the wind and make a Rocky VII in which he fights a Chinese super robot for the title.
Say Anything… 20th Anniversary Edition — Cameron Crowe's 1989 teen angst opus only gets better with age, as the genius of early John Cusack hits its apex in a pre-emo storm of awkward exuberance. People used to complain that the movie was a knockoff of The Graduate, but Say Anything…, in which Cusack plays a kick-boxing nonconformist who sets his sights on the prettiest, smartest girl in school (Ione Skye) seems like it perfects the formula rather than re-hashes it.
Article continues below advertisement
The movie is re-released on DVD but gets more bonus features on the Blu-ray, including a trivia game and a fresh retrospective on the seminal movie that features the iconic image of Cusack blasting "In Your Eyes" on the boom box he holds aloft.
Also out this week:
Aliens in the Attic — Ashley Tisdale vies for a post-High School Musical career in a not-all-that-awful slapstick flick about a bunch of kids who fend off an alien attack, Home Alone-style. Extras: Deleted scenes and Tisdale's curiously brief, semi-embarrassed intro.
G.I. Joe: The Rise of Cobra — A reviled summer cash-in on the 1980s action figure phenomenon just embarrasses stars Channing Tatum, Sienna Miller, Joseph Gordon-Levitt and Dennis Quaid, as well as anyone foolish enough to have watched it. Extras: Filmmaker commentary and making-of docs.
I Love You, Beth Cooper — Hayden Panetiere plays — what else — a cheerleader in this low-rent Can't Buy Me Love knock-off, in which Paul Rust plays an uber-geek who mystifies the teen caste system by earning the romantic interest of the title character for no other reason than the demands of the ludicrous, unfunny script. Extras: An alternate ending that's even worse than the one in the movie's deservedly brief theatrical run.
The Taking of Pelham 1 2 3 — Denzel Washington and John Travolta star in an unnecessary remake of the 1974 pot boiler, about criminals who hijack an NYC subway train. The movie isn't terrible, but Quentin Tarantino already robbed the original for anything worth stealing in Reservoir Dogs. Extras: Behind-the-scenes docs and trailers.
Phil Villarreal's humorous money-saving book, Secrets of a Stingy Scoundrel, is available at bookstores and on .