NEWS
The PhilmGuy's DVD Review: 'Snow White and the Huntsman' Starring Kristen Stewart and Charlize Theron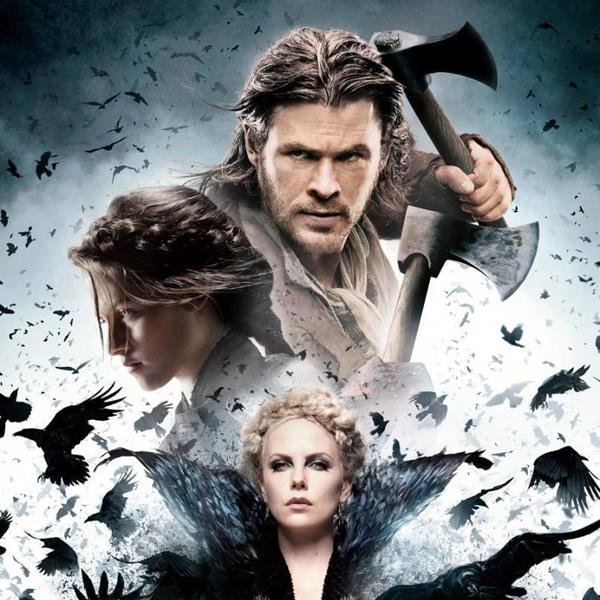 The Big Bang Theory: Season 5 — The nerd-tastic, academia-set sitcom that's stuck with the unfortunate laugh track shows no signs of fading as it reaches the half-decade mark. The on-again, off-again romance between characters played by Johnny Galecki and Kaley Cuoco is nice, but it's socially awkward supergeek Sheldon (Jim Parsons) and his bizarre love interest (Mayim Bialik) who own the show. The best bonus feature of the Blu-ray is the slate of included digital copies of each episode. There's also a gag reel and a pair of amusing featurettes that provide up-close looks at the show's unapologetically dorky themes and characters.
Article continues below advertisement
OK!'S PHILMGUY REVIEWS COSMOPOLIS STARRING ROBERT PATTINSON
Ghosts of the Abyss Blu-ray — James Cameron's 2003 IMAX documentary, in which he, Bill Paxton and a crew of researchers plumbed the depths of the sea to get a close-up look at the Titanic, looks stunning on Blu-ray. It needs to look good, because there's not much thrust to the story. The movie is strictly for those who share the filmmaker's obsession with the minutiae of the sunken ship. Since I don't count myself in that category, the movie felt like it tried too hard to make me share its enthusiasm, with Cameron and crew hooting and hollering over every little discovery like overenthusiastic 10-year-olds. The three-disc set includes the 2D and 3D Blu-ray versions of the movie, as well as the DVD. Each disc contains the extended and theatrical editions of the film, and the 2D Blu-ray disc boasts interviews with Cameron, Paxton and crew, as well as bonus footage.
Girl in Progress — Sticking a movie on DVD while neglecting to give it a Blu-ray release is a telling sign of no confidence, and you can quickly see why Lionsgate rightly thought this mommy-daughter bonding comedy is a loser. Cruel, unrelatable characters, stiff dialogue and an infuriating story make the movie insufferable. Eva Mendes sinks to a career low as a vapid single mom who is at odds with her teen daughter (Cierra Ramirez), who takes after her mom in the worst ways, making it a personal goal to act out as much as possible, behaving self-destructively to earn her mom's attention. A making-of featurette is the movie's lone extra.
Article continues below advertisement
Goats — An underrated indie that sticks David Duchovny in one of his most memorable roles, the coming-of-age film pulls you along on a mesmerizing path. Duchovny plays Goat Man, a pothead pool guy who serves as a mentor for an aimless teen (Graham Phillips) who is shipped off by his disinterested divorced parents to a prestigious boarding school. Keri Russell makes an impression as his estranged dad's new wife, and Vera Farmiga is magical as the boy's flighty, new-age-obsessed mom. Deleted scenes and a slew of droll behind-the-scenes featurettes make up the extras.
OK!'S THE PHILMGUY REVIEWS THE DARK KNIGHT STARRING CHRISTIAN BALE AND ANNE HATHAWAY
Lola Versus — After an ill-advised dalliance in big-budget filmmaking in the ill-advised 2010 Arthur remake, Greta Gerwig regains her form as an indie darling in this lighthearted romantic comedy. She plays a 29-year-old grad student who tumbles into an existential crisis when her fiance (Joel Kinnaman) ditches her just before the wedding. A painful jumble of ill-advised relationships and depressive spirals ensues, and the tough-love advice from her mom (Debra Winger) is of little help. Gerwig's radiant charisma boosts what otherwise might have been a dull and pointless affair about a self-obsessed woman throwing herself a pity party. Filmmaker commentary, deleted scenes and a featurette on Gerwig fill out the extras.
Article continues below advertisement
Snow White and the Huntsman — I was shocked at how gorgeous this movie looked, as well as the vivid and clever the new take on a threadbare fairy tale. The only weak spot is Kristen Stewart, who is an awkward fit for the title character. Charlize Theron picks up the slack as her searing nemesis, the wicked queen, and Chris Hemsworth as the lovelorn, torn-between-duty-and-honor Huntsman, proves he's got range far beyond what he's showed as Thor. But the biggest star proves to be director Rupert Sanders — yep, Stewart's scandalous married former lover — who tells the tale with artistic wizardry, blending touches of Game of Thrones and The Lord of the Rings into his own wild, well-expressed imagination. The movie should be in the running for Oscars for its visuals, but it's far more than just a pretty face. The Blu-ray/DVD/digital copy combo includes Sanders' commentary, along with his editor and effects guy, as well as making-of featrettes, a set tour and a look at the enchanting effects.
Spartacus: Vengeance Season 2 — Although the "wow" factor has worn off a bit from the stylish, hyperviolent and nudity-filled ancient Rome-set Starz drama, it continues to carry on the series' visceral momentum. Liam McIntyre plays musclebound, rabble-rousing renegade Spartacus, who is bent on sticking it to the empire. Lucy Lawless and Viva Bianca play strong, sexy characters who parlay deadly political games to their advantage. The visual style borrows liberally from 300 and Sin City, so if those movies turned you off, steer clear of this. Featurettes focus on the making of the show, Mcintyre's background and the legend that inspired the show. The Blu-ray also includes extended episodes and commentaries.
Article continues below advertisement
Titanic Blu-ray — Leonardo DiCaprio and Kate Winslet melted hearts, if not ship-sinking icebergs, as young lovers who are parted by the heinous fate of the doomed ship's voyage. The 1997 film shimmers in high definition, with director James Cameron overseeing a stunning transfer that easily renders ancient VHS or DVD versions of the romance obsolete. It's taken far too long for the film to sail into the HD waters, and makes up for the delay with more than 150 minutes of previously unreleased extras in a Blu-ray/DVD/digital copy combo. Three commentary tracks, deleted scenes with Cameron's commentary, exhaustive behind-the-scenes footage and even a trio of short parodies wash ashore.
What to Expect When You're Expecting — The stalwart motherhood advice guide gets a feature film adaptation, with Cameron Diaz, Jennifer Lopez, Anna Kendrick, Brooklyn Decker and Elizabeth Banks playing moms-to-be whose lives loosely intersect with one another. I was expecting something as misshapen and dull as New Year's Eve, but pleasantly surprised with the well-written, entertaining result. Director Kirk Jones' film touches on the academic nature of the source material while spinning them into several engaging fictional vignettes. The Blu-ray/digital copy combo includes deleted scenes and a look at the movie's silly male characters.