NEWS
The PhilmGuy's DVD Review: 'Source Code'; 'Trust'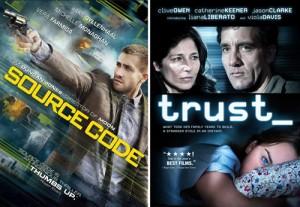 Source Code – In this drama, a sci-fi take on the Groundhog Day concept, Jake Gyllenhaal plays a war vet who is locked in a chamber and tasked to travel back in time again and again to identify a train bomber. Michelle Monaghan plays a woman on the train with whom he falls in love and wants to save despite orders not to do so. One of the best films of the first half of the year, the effort is another winner for Duncan Jones (Moon). Extras include commentary and cast interviews.
Article continues below advertisement
THE PHILMGUY REVIEWS: FRIENDS WITH BENEFITS, STARRING JUSTIN TIMBERLAKE & MILA KUNIS
Donnie Darko 10th Anniversary Blu-ray – The stunning, twist-filled, time-traveling head-trip finally gets a proper Blu-ray release, with this four-disc extravaganza that includes a DVD, digital copy and a slew of comprehensive extras. Jake Gyllenhaal, with real-life sister Maggie Gyllenhaal playing his wise-cracking sister, stars as a troubled high school student who stumbles onto a warp in spacetime that gives him the chance to save his world. Brilliant dialogue and a compelling, thought-provoking story make this one a classic.
Life During Wartime Blu-ray – Indie provocateur Todd Solondz (Welcome to the Dollhouse, Happiness) weaves a bizarre stars Ally Sheedy, Shirley Henderson and Allison Janney as a trio of sisters who deal with their dysfunctional family and relationships. Darkly humorous and often head-scratching, the film consists of fantastic moments that aren't always interconnected. The Criterion disc includes a Solondz interview, making-of documentary, cinematographer discussion and tribute booklet.
THE PHILMGUY'S DVD REVIEW: LIMITLESS; TAKE ME HOME TONIGHT
Trust – David Schwimmer continues to come of age as a director, with this intense, emotionally wrenching tale of a 14-year-old girl (Liana Liberato) who falls victim to a sexual predator online. Her father (Clive Owen) becomes obsessed with tracking the man down, while her mother (Catherine Keener) stands back idly, wishing for it all to go away. The Blu-ray offers scant extras, including only a background featurette. But the movie, the best I've seen so far this year, is well worth checking out for its own merits.