NEWS
The PhilmGuy's DVD Review: 'Toy Stories' & 'Mad Men'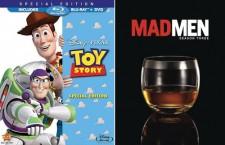 Toy Story and Toy Story 2 Blu-ray – The two Pixar masterpieces that made the studio a leader of the animation world come out in high-definition — in those DVD/Blu-ray combo packs Disney does so well — and sets the table nicely for Toy Story 3, due out in June. Both sets include a formidable library of featurettes, including peeks behind the scenes at Pixar. It's difficult to imagine a more comprehensive or beautiful way to pay tribute to the movies.
Article continues below advertisement
The African Queen Blu-ray – The 1951 classic pairs Humphrey Bogart and Katharine Hepburn as mismatched travel partners who ride on a dumpy steamboat and launch an ill-advised attack on a German warship. Although the story isn't that strong, the performances and iconic personas of the actors make the movie great. The film dazzles in high-definition; an exhaustive "making-of" documentary makes the film resonate.
Brothers – Jake Gyllenhaal and Tobey Maguire play siblings with a blend of contempt, envy and admiration for each other. Maguire plays a family man who disappears while in military service, and Gyllenhaal is his ex-con, ne'er-do-well brother who steps in and helps Maguire's wife (Natalie Portman) and kids in his absence. This often overlooked, war-themed drama by director Jim Sheridan pairs nicely with the Oscar-winning film The Hurt Locker. The Blu-ray and DVD include Sheridan's commentary and a look at the way the film was adapted from a Danish movie.
Article continues below advertisement
Days of Heaven Blu-ray – A monumental 1978 drama from Terrence Malick stars Richard Gere as a steel mill worker who flips out, murders his boss and runs away to Texas with his girlfriend (Brooke Adams) and sister (Linda Manz). The film's stirring scenery and emotional pull make the minimalist tale shine. The Blu-ray includes cast and filmmaker interviews and commentary from the 2007 DVD.
Talhotblond – One of the most mesmerizing documentaries I've ever seen, the film tells the tale of an online love affair gone wrong — it involves a middle-aged family man who becomes obsessed with a teenager and ends up murdering a coworker who's enmeshed in a love triangle. The film packs a late twist that changes everything. The DVD is light on extras.
Mad Men Season 3 – TV's most captivating drama, focusing on the morally loose world of 1960s New York City ad executives, continues to get better with age. At the center of the ironic cultural observations and stunning plot threads is the dynamic relationship between the two central characters, Don Draper (Jon Hamm) and his wife Betty (January Jones), who have affairs and drift from each other. Both the DVD and Blu-ray are packed with extras, but the Blu-ray features everything the DVD does, and more, including a retrospective of 1963 and a thematically linked documentary about civil rights activist Medgar Evers.
Phil Villarreal's humorous money-saving book, Secrets of a Stingy Scoundrel, is available at Amazon.