NEWS
The PhilmGuy's DVD Review: 'Unstoppable'; 'You Will Meet a Tall Dark Stranger'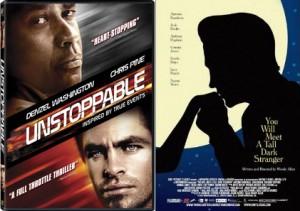 Unstoppable – Denzel Washington and Chris Pine star as a pair of mismatched train operators who find themselves who race to save a small town from a runaway unmanned cargo train carrying explosives. Reportedly based on true events, Tony Scott's action dynamo ratchets up the tension in the opening scene and never slows down through the end credits. The Blu-ray included a digital copy, and extras include Scott's commentary and inside looks at the making of the impressive stunts and not-so-impressive script.
Article continues below advertisement
THE PHILM GUY REVIEWS: JUST GO WITH IT
All the President's Men Blu-ray – Robert Redford and Dustin Hoffman team as famed Washington Post reporters Bob Woodward and Carl Bernstein, who work together to pin the Watergate scandal on Richard Nixon in this 1976 classic. It's a film that no doubt launched countless careers in journalism and holds up well and remains relevant despite its antiquated aspects. Packaged as a tribute book, the disc includes vintage interviews, a look at Woodward and Bernstein and a making-of documentary.
Network Blu-ray – Ranked as one of the top 250 movies on the Internet Movie Database, Sidney Lumet's 1976 masterpiece is a prophetic, thoughtful look at the dark underbelly of the media world. A news anchor (Peter Finch) who is going off the deep end makes a deranged spectacle of himself, and the powers that be are only too happy to follow him down the rabbit hole. Faye Dunaway makes an impact as a power-hungry who sells out her soul in order to get ahead, and Paddy Chayefsky's script crackles with unpredictable plot moves and brilliant dialogue. The book-style packaging provides pages of tributes, and the disc includes director Sidney Lumet's commentary, a six-part making-of documentary and an interview with Lumet.
Article continues below advertisement
THE PHILMGUY'S DVD REVIEW: LIFE AS WE KNOW IT; IT'S KIND OF A FUNNY STORY
Thelma & Louise Blu-ray – For its 20th birthday, the watershed 1991 feminist tale of women who uproot themselves from their dreary lives to become unlikely outlaws who go on the run from the law. Geena Davis and Susan Sarandon develop a Bonnie and Clyde-like chemistry, and Brad Pitt pops makes an impression in an early role. The disc bulges with several extras, including director Ridley Scott's commentary, a cast commentary track, deleted and extended scenes – included an extended ending – and several featurettes.
You Will Meet a Tall Dark Stranger – Woody Allen's latest effort didn't generate much financial or critical success, but it had me chuckling throughout. The filmmaker tells parallel, interlinked tales of two couples on the outs. Anthony Hopkins stands out as a wealthy retiree who decides to stray from his marriage and date far younger women, while his daughter (Naomi Watts) begins to doubt her marriage to a struggling author (Josh Brolin). Lucy Punch sparkles as Hopkins's ill-advised trophy romance. There are no extras to speak of, as is typical with Woody Allen movies.