NEWS
The PhilmGuy's DVD Reviews: 'Bond 50,' 'Dark Shadows' Starring Johnny Depp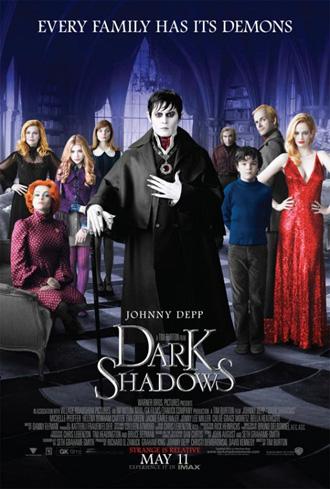 American Horror Story: Season 1 — FX's gothic, wildly unpredictable yet always entrancing miniseries hooks you with a sordid pilot and never loosens its grip. Dylan McDermott and Connie Britton play a couple who move into a haunted house, becoming entangled in a deeply disturbing web of grotesque, jarring horrors. Jessica Lange makes an impression as a plucky neighbor. Several making-of featurettes haunt the disc, and the pilot has a commentary track from series creator Ryan Murphy (Nip/Tuck).
Article continues below advertisement
The Brothers McMullen Blu-ray — Writer/director/star Edward Burns busted onto the scene with this witty, heartfelt 1995 dramedy about three brothers (Burns, Mike McGlone and Jack Mulcahy) struggling with love, family relationships and the general direction of their lives. Burns is still chugging along, but few of his films have matched the magic of his debut. The film gets a new HD transfer, Burns's commentary and a tribute booklet that takes you into the filmmaker's process.
Bond 50 — All 22 previously released James Bond flicks are crammed into a voluminous, yet surprisingly svelte, set, allowing series superfans to watch the movies back-to-back in glistening HD and settle debates over who the best Bond really was. The Blu-ray treatment works especially well on the 1960s entries, bringing sharper definition, brighter color and better detail to movies I'd only previously seen on poorly converted form on TV. Better still, each movie includes a comprehensive set of extras, allowing for countless hours of bonding with the intricacies of the long-running series. Digital and DVD copies of each movie would have been a nice add-on, but there's no question that there's remarkable value in the set, which is available for $150 on Blu-ray and $100 on DVD on Amazon
Article continues below advertisement
Cinderella Blu-ray — Disney's 1950 film — the epitome of classic princess/fairy tales — finally gets to step into the glass slipper of Blu-ray. As is the case with other animated classics of the era, the remastered visuals shine, with gorgeous pastels that bring the incomparable artwork to life. The story itself is a little lightweight, but it's still compelling enough to watch every few years, if not every day, like my 3-year-old daughter wants to. The Blu-ray/DVD combo's slate of extras is thin and largely unfulfilling, with weak, poorly conceived featurettes and a head-scratching second-screen accompaniment. This disc belongs in the library of any animation fan for the movie alone, but don't expect to learn much about the film's heritage or impact.
Dark Shadows — Director Tim Burton and his male muse, Johnny Depp, tackle gothic, darkly comic material for the 10,000th time. And at this point the returns are not only diminishing but are just about nonexistent. Remaking a bizarre soap opera that ran from 1966 to 1971, Depp plays a vampire who's been locked away for nearly 200 years and vows to restore his decayed manor and family fortunes. Bella Heathcote plays the house's new governess, as well as Depp's ill-fated lover from way back when. Michelle Pfeiffer, Helena Bonham Carter and Chloe Grace-Moretz take turns hamming it up, and the charade gets sillier and sillier as it rolls along, until eventually any semblance of a coherent story has faded away and there are werewolves and witches running around everywhere. Much like True Blood, come to think of it. The Blu-ray/DVD/digital copy combo includes deleted scenes, featurettes on characters, plotlines and locations, as well as Maximum Movie Mode interactive commentary.
Article continues below advertisement
Family Guy: Volume 10 — Seth MacFarlane's joyously immature animated social commentary shows no sign of slowing down. The latest collection rounds up 14 episodes from season 9, which aired in 2010 and 2011. The selections are solid, rounding up such memorable episodes as Brian Writes a Bestseller, New Kidney in Town and Road to the North Pole, but the studio's release strategy continues to be bizarre. Fans wanting full seasons or Blu-ray releases of episode collections are stuck waiting. This set and most others are available only on DVD, even as the Star Wars specials have merited HD releases. Extras include commentary on a few episodes and deleted scenes.
Peace, Love & Misunderstanding — Jane Fonda continues her career resurgenc. She shows she can still play characters as diverse as her megalomaniacal media conglomerate boss in The Newsroom, as well as here, as a free-spirited, geriatric hippie who hosts her uptight, resentful daughter (Cahterine Keener) and grandchildren (Elizabeth Olsen, Nat Wolff) at Woodstock. Director Bruce Beresford (Driving Miss Daisy) elegantly bridges the generation gaps with subtle comedy and emotionally charged storytelling. A brief featurette is the lone extra.
Article continues below advertisement
People Like Us — The mildly disturbing tale of redemption stars Chris Pine as Sam, a burned out salesman who reconnects with his estranged mom (Michelle Pfeiffer) and discovers he has a half-sister, Frankie (Elizabeth Banks) he never knew. The problem is Sam neglects to tell her he's her brother, so she ends up becoming attracted to him, and Sam does little to discourage those feelings. Sam eventually explains his behavior, and the movie does coalesce into a resounding emotional punch at the end, redeeming the strange, sometimes wonderful film. The Blu-ray/DVD combo includes commentary with Pine, Banks and director Alex Kurtzman, as well as separate tracks with Kurtzman and Pfeiffer and Kurtzman and the writers. Deleted scenes and a look at the true story that inspired the movie fill out the disc.
She's the One Blu-ray — After turning heads with The Brothers McMullen, writer/director star Edward Burns quickly delivered this stunning 1996 follow-up, starring Burns and Mike McGlone as brothers who are both suffering women trouble with the loves of their respective lives (Cameron Diaz and Jennifer Aniston). Burns not only avoided the sophomore slump, but proved himself to be one of the most inspiring indie success stories of the 1990s with the captivating, rewatchable film. Like The Brothers McMullen, this disc gets a tribute booklet, Burns's commentary and a fresh HD transfer.
Article continues below advertisement
Transformers Rescue Bots: Roll to the Rescue — Although it's questionable that there needs to be a "kid-friendly" version of Transformers, since the other series are aimed at children as is, this version goes the Super Hero Squad route, keeping the atmosphere lighthearted and adding kid characters into the mix as they help out a team of Transformers that masquerade as first-response rescue vehicles. The series works well as an introduction to the Transformers universe for toddlers.
Universal Classic Monsters: The Essential Collection Blu-ray — A veritable treasure trove of the studio's black-and-white, early Hollowyood gems shaped the pop culture definitions of several monsters forever. Included in the set are Dracula (1931), Frankenstein (1931), The Mummy (1932), The Invisible Man (1933), Bride of Frankenstein (1935), The Wolf Man (1941), Phantom of the Opera (1943) and Creature from the Black Lagoon (1954). Each film boasts an impressive slate of extras, including background on the restoration process, commentary from film historians and others loosely connected to the productions, and loads of trivia. There's also an impressive tribute book that spans nearly 50 pages. You can find the set online for $115 or so. Not a smoking deal by any stretch, but nor is it a ripoff for a must-own set for classic horror film buffs.