NEWS
The PhilmGuy's Top 10 Movies of 2010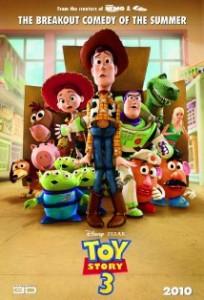 1. Toy Story 3. It ranks at the top because it almost made me cry, not once but twice. The movie blows away the first two movies in the series because of its depth and pace.
OK! GALLERY: LEONARDO DICAPRIO CATCHES SOME CULTURE POST-CHRISTMAS
2. Inception. Christopher Nolan is by far the most consistently elite filmmaker working today, cranking out masterpieces left and right. His dream-within-a-drea-within-a-dream thriller resonated with me as an extension of Waking Life, my favorite movie of all time.
Article continues below advertisement
3. The Social Network. The staccato script and broadband-fast speed at which the movie flies by is remarkable. The acting and narrative make you despise and sympathize with Mark Zuckerberg, and the chance to see how the Facebook sausage was made is fascinating.
4. True Grit. The Coen brothers pen some rawhide-like dialogue for Jeff Bridges to chew up and spit out. Their vision of a rough, dust-choking west makes it seem as though Deadwood and There Will be Blood got drunk and made a baby.
OK! GALLERY: JEFF BRIDGES & MATT DAMON SHOW THEIR TRUE GRIT STAR POWER
5. The Fighter. It's this year's Rocky, plain and simple. I don't care how many liberties were taken with the real-life stories, because director David O. Russell spins his tale with such grace and charm.
6. Black Swan. A head trip like no other, the psychosexual thriller places you inside the frightening mindscape of an elite ballerina. Never predictable and always engrossing, the movie owns your soul.
Article continues below advertisement
7. 127 Hours. James Franco excels in what amounts to a one-man show, exploring the depths of human fortitude as a man trapped in a craggy mountain, left alone with his tormented soul.
OK! NEWS: JAMES FRANCO'S "GRATEFUL" & "EXCITED" FOR GOLDEN GLOBES NOMINATION
8. Shutter Island. It gets overshadowed by the similarly themed Inception, but the Martin Scorsese-directed opus, which like Inception, stars Leonardo DiCaprio in a man unsure whether he's trapped inside his own mind, gets you thinking and talking about the plot for months after you watch.
9. Nice Guy Johnny. Writer/director Edward Burns shakes his nasty habit of starring in terrible studio movies for this indie gem, which harkens back to his Brothers McMullen roots. In telling the story of a too-nice goober who sows his wild oats in a summer romance, Burns continues to make strides in proving he's our generation's Woody Allen.
10. Solitary Man. A tragically overlooked three-quarterlife crisis drama, starring Michael Douglas as a lifelong cad who comes to reflect on the tangled web he's weaved. It pairs nicely with the unfairly maligned Wall Street 2.