NEWS
The PhilmGuy's Top 10 Movies Of The Year & Decade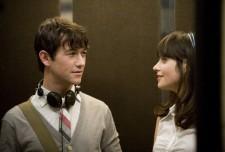 Maybe it seems a little weird to have a guy who's only been here for a couple months to start rattling off best-of-year/decade lists, but I've been reviewing movies steadily since the beginning of 2001. I suffered through Harry Potters and Pokemons and Pink Panthers so I have every right to make these lists.
That said, here are the best of the best. First, for the '09.
1. (500) Days of Summer: It's a romance about how stupid it is to allow yourself to be suckered into believing that everlasting love exists. Endlessly inventive, heartbreaking though life-affirming.
Article continues below advertisement
2. Inglourious Basterds: Quentin Tarantino tells a revisionist World War II tale in the hyperactive, sugar-rush style only he can pull off.
3. Precious: Is it exploitative? Sure. But damned entertaining and even a little heartfelt despite its melodrama.
4. Crazy Heart: Jeff Bridges delivers the best performance of the year as a broken down, philandering, alcoholic country singer who isn't quite a has-been because he never was.
5. A Serious Man: The Coen brothers make a comedy that's actually funny for the first time in a while. Shades of Fargo and The Big Lebowski.
6. Me and Orson Welles: A rich, in-depth slice-of-lifer that gives you insight to a legend. More biopics should be told this way, rather than as standard coming-of-age tales.
7. The Princess and the Frog: This traditionally animated musical is a return to Aladdin/Lion King/Beauty and the Beast form for the long-downtrodden Mouse House.
Article continues below advertisement
8. Were the World Mine: If you love Glee, you will love this movie, which is a High School Musical without the stupidity.
9. Up: Pixar has outdone itself. Look for a well-deserved best picture nomination.
10. Up in the Air: The pre-ordained best picture winner isn't the best movie of the year, but it's up there alright. George Clooney's charm carries the day.
And now the top 10 of the decade:
1. Waking Life (2001): Richard Linklater's rotoscoped philosophical opus remains the greatest movie ever made.
2. Kill Bill Vol. 1 (2003): This is Tarantino's best, most exuberant movie other than Reservoir Dogs.
3. Donnie Darko (2001): Pure, apparently unintentional genius with bewildering depth.
4. Before Sunset (2004): A sequel to one of the most romantic movies I've seen really hits hard about lost opportunities and the way they torment you throughout your life.
5. Rocky Balboa (2006): As awesome as all previous Rockies were, they were but prequels to this watershed event.
Article continues below advertisement
6. No Country for Old Men (2007): Ending that makes no sense, a terrifyingly iconic villain on par with Hannibal Lecter and some unforgettable dialogue.
7. The Shape of Things (2003): Before Neil LaBute turned into a studio stooge he was one of the most exciting indie filmmakers out there. This subversive, sadistic romance is him at his devilish best.
8. The Rules of Attraction (2002): No movie has captured the existential angst of college life better than this brilliantly shot Bret Easton Ellis adaptation.
9. The Dark Knight (2008): I tend to lump this in with Batman Begins as a Godfather I and II-like epic knockout punch of pure cinematic glee.
10. (500) Days of Summer (2009): Maybe I'm too high on it because it's so new, but I don't think so, and in fact expect it to move further up the list as the years pass.