NEWS
PHOTO: Pres. Obama, VP Joe Biden & Senior Staffers Wait During Osama Bin Laden Operation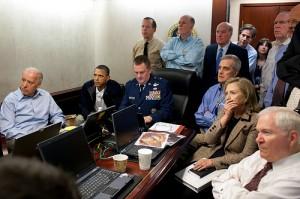 One can only imagine the nerve-wracking moments between when President Barack Obama issued the final order authorizing the ground strike that killed Osama bin Laden, and now a new photo from the White House Flickr account gives Americans a picture that speaks volumes of that undoubtedly intense time.
In the image, Obama, Vice President Joe Biden and Secretary of State Hillary Clinton are shown looking intently at what might be an update from the operation to capture or kill bin Laden.
Article continues below advertisement
The caption on the photo, which was uploaded yesterday, May 1, reads: "President Barack Obama and Vice President Joe Biden, along with members of the national security team, receive an update on the mission against Osama bin Laden in the Situation Room of the White House, May 1, 2011. Please note: a classified document seen in this photograph has been obscured."
Time reports on the atmosphere in the Situation Room yesterday, and the days leading up to Obama's decision to go with the ground strike. His other options were reportedly to wait, or go in with a bomb strike. It was only about 50 percent certain that bin Laden, codename Geronimo, was even at the compound.
OK! NEWS: PRESIDENT BARACK OBAMA ADDRESSES THE NATION: OSAMA BIN LADEN IS DEAD
"For 40 minutes, the President and his senior aides could do nothing but watch the video screens and listen to the operation and ensuing firefight on the other side of the world," reports Time.