NEWS
PHOTOS: Blake Bares All in 'The Private Lives of Pippa Lee'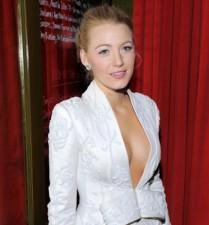 Blake Lively is not scared to show skin. Her low-cut top and black shorts made for a seductive look last night at a screening of The Private Lives of Pippa Lee in NYC. The Gossip Girl star plays young Pippa Lee who marries a much older man (Alan Arkin) and begins to regret her choice of partner as she ages (older Pippa Lee is played by Robin Wright Penn). In her new Oscar-buzzed film, Blake, 22, has a sex scene with Alan, 75.
Article continues below advertisement
At the L.A. press junket for the film, Blake discussed the naked bed scene with Alan, the L.A. Times reports. Anytime clothes are strategically taped to an actor's body, there is going to be some discomfort., the actress said.
"But, I was with Alan and Rebecca, and our wonderful D.P., and it was a very private set," Blake said. "We're all actors, we're all professionals and we all understood what was happening. Everybody is uncomfortable with those scenes. You're never going to be comfortable being half-naked in front of anyone. But, it was fine. It was a short scene. For me, it's more uncomfortable to watch it. It's like, "Oh, no, all these people are seeing me like this!"
Blake explained her character, young Pippa, is not looking for a sexual partner, she's looking for a father figure.
"It's not lust that attracts her to him. It's that she doesn't have a parent," she said. "It's him fulfilling that hole of a parent. He's the first person that guides her, and that provides her security and comfort, so that's what their relationship was about. So, we weren't busy trying to fabricate sexual chemistry."