NEWS
PHOTOS: George Clooney's a Broody Fox at Film Festival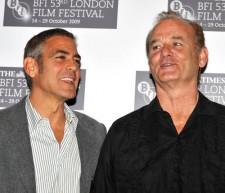 During a press conference at the London Film Festival for the new animated family movie Fantastic Mr. Fox, George Clooney joked about starting a family, The Press Association Reports. "I am going to adopt some of Brad Pitt's (children), I owe him a few," George joked.
The adaptation of Roald Dahl's story stars George as Mr. Fox who has a son, Ash, played by Jason Schwartzman.
Reporters asked George whether he was feeling broody to which he responded, "Broody — that's a word that Americans don't understand."
Article continues below advertisement
After Jarvis Cocker, who plays a musician in the film, clued him in, George added, "Broody? That means do you want to have kids. I'm learning all these new phrases this week. Just having Jason here next to me, I feel like a father. And he just got married by the way so I feel like almost a grandfather."
Bill Murray also stars in the film lending his voice as a Badger.
Bill told reporters,"But channeling the badger... you know we've all got a little critter in us and when cornered we fight ferociously and we burrow deep, deep deep to get away from other people and be safe."
GEORGE AND BILL's MR. FOX PRESSER: