NEWS
PHOTOS: Gosselin Forecast is Cloudy with a Chance of Meatballs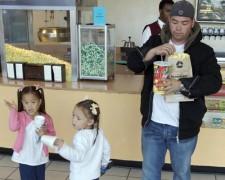 As the war of words between Kate and Jon Gosselin begins to cool down, the newly apologetic reality TV super-dad is spending less time with 22-year-old blondes and more time with the small army of children he fathered. Yesterday, J.Goss escorted daughters Alexis and Hannah to the local movie theater in Reading, Pa., where the trio took in an afternoon showing of the 3-D animated hit, Cloudy with a Chance of Meatballs.
MORE ON:
OK Galleries & Photos
Article continues below advertisement
MORE RECENT PICS OF THE JON & THE KIDS!