NEWS
PHOTOS: Rihanna's Umbrella Fails Her in London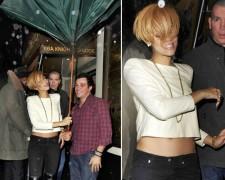 Everyone knows that "Umbrella" is one of Rihanna's catchiest and most popular songs — everyone except the umbrellas themselves. The singer was the victim of a rogue 'brella on Saturday night in London as she left The Wellington in Knightsbridge. The club's manager attempted to shelter RiRi from the drizzle, but a gust of wind blew the umbrella inside-out.
"What the hell am I supposed to do with this?!" Rihanna reportedly joked after the umbrella was rendered useless.
Article continues below advertisement
Regardless, the incident put a smile on Rihanna's face as she and her group headed to Bungalow 8 to finish out the evening.