NEWS
Pia Toscano on 'American Idol' Elimination: "I Think the Judges Should Have a Say"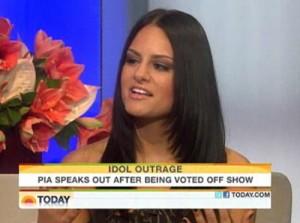 The judges certainly were not ready to say goodbye to Pia Toscano last week on the shocking American Idol results show. And while Pia was not surprised to be in the bottom three, she was upset to leave and feels a new voting system maybe should be implemented.
"It didn't come as a shock to me when I was in the bottom three," Pia shared on the Today show this morning. "But you never expect to get voted off so early."
Article continues below advertisement
OK! VIDEO: PIA TOSCANO ON HER SHOCKING AMERICAN IDOL EXIT AND ALL THE RUMORS!
Pia remained diplomatic for most of the interview, and would not speculate on judge Steven Tyler's comments that men weren't voting and that female voters might be jealous of Pia.
But she does feel that the judges should be involved in the elimination process more.
"I think the judges should have a say," she shared.
Pia also explained her spiritual take on the shocking elimination.
"I've tried to spin it in a positive way — that this is God's plan," Toscano explained. "It's a blessing in disguise. It's opened so many doors for me, so I have no regrets whatsoever."
Catch the clip below!
Visit msnbc.com for breaking news, world news, and news about the economy