NEWS
Pia Toscano on Dating Mark Ballas: "He's a Really Nice Guy"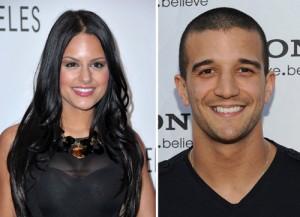 So is Pia Toscano really dating Mark Ballas? The latest American Idol castoff stopped by the OK! NYC offices this afternoon to discuss her shocking elimination and even answered our pressing questions about her relationship with the Dancing With the Stars pro!
Not exactly. According to Pia, she hung out with Mark on a group date in L.A.
Article continues below advertisement
"Well we went out with a group of people so it wasn't really like a date," Pia, 22, explained to OK!. "He's a really nice guy."
"It's funny, you go out one second and then you're dating," the Queens New York native shared of the romance rumors. "It goes with the territory. It's Hollywood."
TMZ reports that not only did the couple go on a date in L.A. last Friday, but they also "made out" with each other.
Pia also addressed reports that she was dating fellow Idol contestant, who joined her in the bottom two last week, Stefano Langone.
After Pia's elimination, Stefano posted an almost cryptic Tweet saying: "All I can say is it wasn't right. And anyone that thinks they have a clue on how I feel or what I'm going thru as a PERSON, has NO idea..."
So did sparks fly?
"No. Stefano is such a good friend of mine," Pia told OK!, clearing the air. "He actually reminds me a lot of my family. Being at home. We both kind of have similar backgrounds. so we are very close friends. We are all family so it's kind of weird to put the two and two together. He is a great kid."
Stay tuned for OK!'s full video interview with Pia!
Reporting By Rana Meyer