NEWS
Pick the Next Read for OK!'s Online Book Club!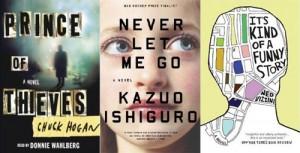 A great book is always more fun when you've got some pals to gab about it with — the high points, the low points, the tear-jerking moments and everything in between. That's why OK! has started up a book club and we want you to pick what we should read next!
OK! NEWS: INTRODUCING OK!'S ONLINE BOOK CLUB — EAT PRAY LOVE
Every Tuesday night, OK!'s been discussing a book online that an upcoming movie is based on.
Article continues below advertisement
Before The Town hits theaters, on Sept. 17, we could all read the book this blockbuster was based on!
Watch the trailer below!
Never Let Me Go
Kazuo Ishiguro wrote the book Never Let Me Go and now the film version is hitting the big screen on Sept. 15 in a limited release.
Carey Mulligan, Andrew Garfield, Keira Knightley and Charlotte Rampling star in the film based on the highly acclaimed novel.
Watch the trailer below!
It's Kind of a Funny Story
It's Kind of a Funny Story is an upcoming film based on Ned Vizzini's book, which shares the same title.
Zach Galifianakis, Emma Roberts, Lauren Graham, Viola Davis, Zoë Kravitz, Daniel London and Keir Gilchrist star in the film set for a limited release on Oct. 8.
Watch the trailer below!