NEWS
Piers Morgan Denies Involvement in Rupert Murdoch's News Corp Phone Hacking Scandal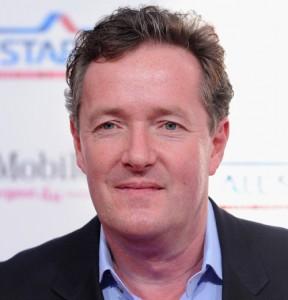 CNN newsman Piers Morgan just had his name dragged into Parliamentary hearing on Rupert Murdoch's News Corp, and he wasted no time slamming the claims brought against him by a British MP who suggested he was aware of the phone hacking scandal.
Conservative MP Louise Mensch suggested during the hearing his morning that Piers may have taken part in the hacking during his extensive career in the tabloid industry — Piers was a former editor of The Sun, The Daily Mirror and News of the World — and went as far as insinuating that in his book The Insider: Private Diaries of a Scandalous Decade he talks about the phone hacking that went on.
Article continues below advertisement
"Piers Morgan, who is now a celebrity anchor at CNN, who do not appear to have asked him any questions about phone hacking, is a former editor of the Daily Mirror," Mensch said today in Parliament, via E! Online. "He said in his book The Insider recently, and I quote, that that little trick of entering a standard four-digit code allows anyone to call that number and hear your messages.
"In that book he boasted that using that little trick enables him to win scoop of the year for a story about England national soccer team manager Sven-Goran Eriksson. So that is a former editor of the Daily Mirror being very open about his personal use of phone hacking… and indeed he is a former News of the World executive."
And Piers fired back at the accusations on Twitter, clearing up his good standing.
Article continues below advertisement
"That MP just claimed I boasted in my book of using phone-hacking for a scoop. Complete nonsense," he Tweeted, adding "Just read the book.
"Ms. Mensch is completely and utterly wrong," he continued. "She clearly hasn't read my book. Can someone please give her a copy? #Murdoch."
And to make sure that no one doubted his sincerity he explained how is book came into play.
"I wrote in my book that someone warned me phones could be hacked, so I changed my pin number. That's it," he Tweeted, adding, "I've never hacked a phone, told anyone to hack a phone, or published stories based on the hacking of a phone"
Actor Alec Baldwin made light of the issue, Tweeting: "If @piersmorgan hacked phones, it's the Pie for him!!!" making reference to the shaving cream filled tin that was thrown in Murdoch's face this morning.
And Piers obliged the 30 Rock star with the following response — "Lemon meringue (obviously)—and I'll have Wendi again, seen Secret Service move slower than that."