NEWS
Piers Morgan Tells Anderson Cooper Christine O'Donnell May Have "Something to Hide"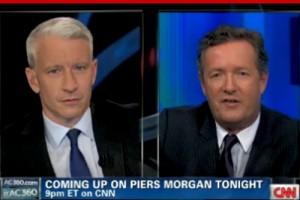 Article continues below advertisement
"I thought I was being my normal, chivalrous British self, and then she took huge umbrage, declared I was being very rude, and walked out," Piers said.
He then admitted he may have been "a little bit cheeky, maybe, but not rude," but also said her actions were uncalled for.
"It looks like she has something to hide" Piers said, speculating on why she wouldn't answer a question on something she had been vocal about in the past."Her views may be so extreme and contentious that it may cause her political damage."
Anderson added that he "found it fascinating that she had some person stand in front of the camera," when she wanted to leave, as it didn't alleviate and rather aggravated the whole situation.
Watch the clip, via CNN, below.