NEWS
Pilar Sanders Dishes New Reality Show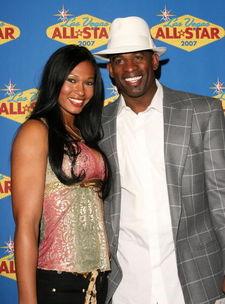 I'm not much of a sports fan, but I do love a good family-oriented reality series. That's why I'm totally jonesing for the series premiere of Deion and Pilar: Prime Time Love.
The newest entry into the celeb reality fray follows the life of former professional football and baseball player Deion Sanders, who now works as a sports commentator, and now does small town living with model wife Pilar and their five children. The dedicated spouse and mom dropped a few choice adjectives to describe what life is like in their home in Prosper, Tex. (population: 2000!).
Article continues below advertisement
"Mayhem and chaos," she laughs. "There are basketball games, practice, football and dates for her," says Pilar, referring to 17-year-old daughter Deiondra. "I'm always trying to fight and ward off all these little boys who are beeping her all the time."
Unlike some other reality shows, Pilar promises this one is "real reality," she exclaims. "It's actually how we are every day. If you popped by our house, what you see is actually what normally goes on in our home."
Yep, just like every other home that has awards lying about for playing in the Super Bowl and the World Series! (Psst: There isn't another!)
Deion and Pilar: Primetime Love premieres April 15 at 10:30 p.m. on Oxygen.