NEWS
Pink: Get Your Facts Straight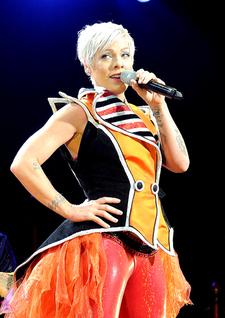 Who needs a publicist to deny rumors when you've got Twitter? After a report in the UK's News of the World came out with an "interview" with Pink, wherein she admits she's bisexual, the spunky singer is all up on her Twitter to deny the story, which she says was made up.
"i just read that im bisexual. so 1991. good thing people write articles about me so i can get my facts str8. i mean straight. read on people...100% FABRICATION."
Article continues below advertisement
She was quoted as saying, "I'm not embarrassed about being bisexual. This is who I am."
Her rep also denied the story, telling the New York Daily News all quotes were "entirely fabricated."
Pink and her hubby Carey Hart were separated for awhile, but have since announced they are trying to reconicle.