NEWS
Pink Opens Up About Her Split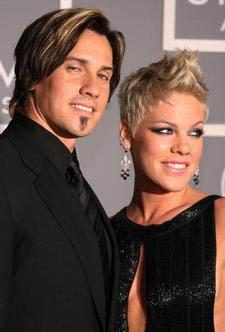 After months of speculation that their marriage was on the rocks, Pink and her BMX biker husband Carey Hart announced their split yesterday. Today, Pink has taken to her Web site and reassures her fans that she is doing fine. She said:
Hi everybody.
I wanted to reach out personally to all my fans/friends out there in the world. First and foremost, thank-you for all of your support and love, it means a lot to me right now. The most important thing for you all to know, is that Carey and I love each other so so much. This break up is not about cheating, anger, or fighting. I know it sounds like cliche bulls***, but we are best friends, and we will continue to be. All I know at this point, is that I want to make the best album I can, and Carey wants to do the best possible job he can with everything he has going on. He is a good man, so please support him as well. One never knows the future, but mine and Careys' just might involve beach babies and sunshine one day. Just not right now. Thanks for the concern and caring.
Article continues below advertisement
X Miss P
It seems that although the two have separated, Pink still has hope for the future. How sweet!