NEWS
Pippa and Kate Middleton Are "Very Competitive," Says Princess Diana Biographer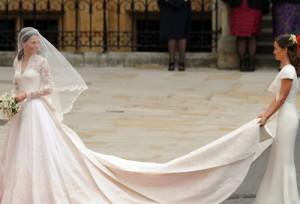 Kate and her younger sister Pippa Middleton are only a couple years apart. So it seems some sibling rivalry is inevitable, and also normal. Author Andrew Morton, known best for his biography of Princess Diana, The Diana Chronicles, is taking his royal knowledge to the new duke and duchess of Cambridge in the illustrated book William and Catherine: Their Story. The British writer chatted about Kate and Prince William, as well as the public's fascination with Pippa, in an interview with PopEater.
Article continues below advertisement
When asked if Kate was surprised by all the media frenzy surrounding Pippa, Morton told PopEater: "I think she would have been. It's amazing what a pert backside can do! It's amusing, but it's slightly misogynistic, isn't it?"
OK! NEWS: PIPPA MIDDLETON FINDS PILATES A "WEEKLY NECESSITY" FOR A HEALTHY LIFESTYLE
"Just as William and Harry are very competitive, Catherine and Pippa are very competitive," he added. "The day was Catherine's day and Pippa played a significant walk-on part, that was it. I don't think she stole the show. Pippa has an exotic walk-on part."
Morton commented that Pippa is aware of her "social access."
"I think what's going to be interesting will be how Pippa and James Middleton handle fame by association, which is almost more difficult to handle than fame by its' own rise," he said. "They've become famous because their sister has become famous; otherwise, nobody could care less about them."
Morton also mused that the American public isn't the only group who wants Pippa and Prince Harry to fall in love!
"We all want a Hollywood ending and there is a precedent for it in the Middleton family," he said. "Kate and Pippa's grandfather Peter and his brother married two sisters."
For the rest of Andrew's interview, visit PopEater.