NEWS
Pippa Middleton Shops & Strolls Around London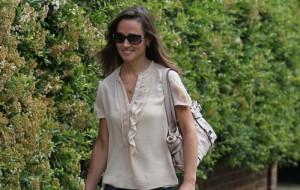 Pippa Middleton headed out yesterday to visit a floral design shop in London. Pippa had her hands full of bags and seemed to be having a day full of running errands! Sis, Kate Middleton has been enjoying her honeymoon in Seychelles with her new groom, Prince William.
Andrew Morton, author of William & Kate: Their Story, explained in a recent interview that he thinks that Pippa will be the one making the headlines!
Article continues below advertisement
"Their marriage is going to be (steady and staid) like the queen's and Prince Philip's," Morton told USA Today. "The world is ready for a bit of calm in the House of Windsor. The fun and games will be around Pippa and James, and Prince Harry."
Kate has yet to announce who she will choose as her Lady-in-Waiting. Do you think she will go with Pippa?