NEWS
Pippa Middleton Topless Photos Hit Web; Family Feels "Betrayed" As They Try to Stop the Leaks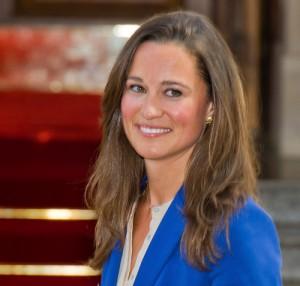 First a photo was leaked of Pippa Middleton — sister to newly crowned Duchess of Cambridge Kate Middleton — dancing in her bra, followed by a $5 million porn proposal from Vivid Entertainment. Now, topless photos have hit the Web of "Her Royal Hotness," which are reportedly being "shopped" around, to the horror of the Middleton family.
"The whole family is furious at what they see as a betrayal," a friend of the Middleton family told the UK's Telegraph newspaper, via Fox 411.
Article continues below advertisement
Attention to Pippa, a 27-year-old party planner turned public figure, skyrocketed after she served as maid of honor at sister Kate's royal wedding to Prince William on April 29. Pippa wore a curve-hugging, ivory Sarah Burton gown and the world's eyes were not only on Kate, but the younger brunette who walked behind her down the aisle.
Soon after the royal nuptials, a Facebook page honoring Pippa's toned behind was created. Then pictures of the only Middleton son, James Middleton, were leaked on the Web — one with his hands down his boxers and in another, he is completely in the buff, crossing his legs as to not be fully exposed.
James' nude pictures were followed by a photo of Pippa partying in a purple bra with a boxer-clad friend.
Article continues below advertisement
"Those images were withdrawn from the entire market," John Camarillo of Zuma Press confirmed to the Telegraph, via Fox 411. "They were only on the market for a few days. They got too popular and that's why they were withdrawn."
The Middleton family is reportedly doing everything they can to stop the pictures from circulating.
"James and Pippa are really embarrassed," a friend told the paper. "How were they supposed to know when these pictures were taken that they would be put under such scrutiny?"
Most recently, photos of Pippa topless while vacationing with Kate and Prince William in 2006 in Ibiza, Spain, have been obtained by The Daily.
Pippa and Kate wore matching white bikinis, and in a couple of photos, Pippa is seen sitting topless adjusting her suit in her hands.
It looks like the Pippa pandemonium is far from over. Do you feel bad for the Middleton family? Sound off in the comments.