NEWS
Piven Not Amused by Emmy Hosts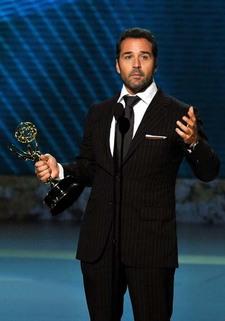 Going into Sunday night's Emmy broadcast, many TV insiders wondered whether the decision to toss aside the ceremony's usual single-host format in favor of multiple hosts — specifically the five nominees in the Outstanding Reality Show Host category — would work. Well, it didn't — at least according to Jeremy Piven.
The Entourage star, who won the Outstanding Supporting Actor in a Comedy award for the third time on Sunday, was the evening's first honoree and had the dubious honor of following only minutes after the five hosts — American Idol's Ryan Seacrest, Project Runway's Heidi Klum, Dancing With the Stars' Tom Bergeron, Survivor's Jeff Probst and Deal or No Deal's Howie Mandel — rambled on about "having nothing" on the teleprompters, causing more than a bit of uncomfortable shuffling in the audience.
Article continues below advertisement
Backstage, Jeremy let his distaste for the opening segment be known to reporters. "It was a celebration of nothing," the outspoken actor announced. "I was confused."
And it looks like he wasn't the only one. Later in the evening, Jeff Probst himself, who ultimately beat out his fellow finalists for the Reality Show Host title, admitted he didn't know how the show came off and plans to watch it again at home.
"According to Piven, it didn't work," Probst shrugged, admitting that having five hosts for the Emmys was a hard task because they all couldn't agree on the jokes.