NEWS
Piven's softer side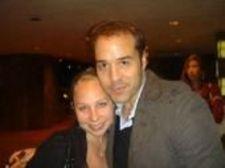 It's easy to have pre-conceptions about Jeremy Piven. He plays an arrogant, out-spoken agent on Entourage and is a 43-year-old bachelor who's more than once been bold-faced in Page Six for less than admirable antics, but…
In the few years and few interviews I've known Entourage's Ari Gold, he's been a fun, humble guy who's only single because he hasn't yet found 'the one.' There's probably a middle ground, but enough from me, this is what he had to say last time I spoke to him – what didn't fit to print in the magazine ;)
Article continues below advertisement
What do you enjoy most about going back to Chicago?
It's just that indescribable feeling of home. Your heart beats differently when you get off the plane. Chicago people look you in the eyes and you can have a conversation with anyone. Whereas here in LA I think people may be a little leery that people they think you may want something from them, whereas in Chicago you can just strike up a conversation with anyone. It's just a real, hardworking, accessible city.
Would you ever live there again?
Would be great to someday.
Are you going to do anymore Journey of a Lifetime episodes?
I hope so. I want to go to Israel.
You haven't been?
I haven't been and I want to go to the Motherland. I want to go there and get Bar Mitzvahed again or something, that would be funny. I'll probably have to get the braces and the mullet together. But, my style hasn't really changed. I was rocking a three-piece pinstriped suit so I can go for a similar suit. I could actually put that look together. There's a show, see Jeremy Piven renew his vows as a Bar Mitzvah boy. I'm going to marry Israel. Like Dennis Rodman married New York, I'm going to marry Israel.
Article continues below advertisement
Speaking of marriage, are you happy single or would you like to get married?
I'd love to get married someday, I really would. You can't force things but I'm incredibly open.
Dating anyone now?
I am not. I'm dating Israel so I'm saving myself.
Favorite play you've seen recently?
August at Osage County. It won a Tony and the best play I've seen. My dear dear friend won the Tony for directing the play. She's the first girl that turned me down. I've known her sixth grade and she's the first girl that ever turned me down. I asked her to go with me and she said no in sixth grade.
Keep in touch?
Absolutely. I was so proud of her I was crying when she was accepting the Tony.
Is she married?
No, she's not married.
Why don't you marry her?
When you've been friends with someone your whole life, you can't really go to that.
Read you're going to do Broadway in David Mamet's play Speed-The-Plow?
Yup. It's every actors dream to get the call from David Mamet, it was like I scripted it. Especially when you grow up in Chicago, his language is so authentic and real and yet poetic at the same time and dirty, so I grew up admiring his work and doing his work and then to get the call to do one of my favorite plays on Broadways was kind of a miracle to me.
Article continues below advertisement
How did it come about?
He knows I'm a Chicago guy and he knows my family and he claims he likes my work, I think he's probably lying, but I love his work.
When does that open?
In October.
Who's been your favorite film star to do Broadway?
I just saw Terrance Howard in Cat on a Hot Tin Roof and he was really amazing.
What advice would you give Katie Holmes her first time on Broadway?
I could never give anyone give anyone advice. I thank you for even asking, but I could never do it.
So you won't be taking over for your mom one day?
I could never fill those shoes. I would love to teach, I would love that, to give back in some way, that's actually a great idea. You never know.
Dating advice for women to keep a guy?
Oh man, you're asking me for advice again and I'm not that guy. I can't give advice, I wish I could. I would say don't take advice from me, that's my advice.
Who's been your favorite guest star on Entourage?
Article continues below advertisement
That's a tough one. My favorite moments are when you have these brilliant musicians and they're so selfless and they work really hard like TI or Mary J. Blige…This year and I'm not just saying this, but it feels like could be best year yet. Just got back Joshua Tree where the entire cast is tripping on mushrooms, Ari Gold trips on mushrooms talking to Lloyd, it's all just fantastic.
Do you still play the drums?
I am playing the drums, I play all the time, all the time.
You were on the last few seasons of the Ellen show as her cousin, did you go to her birthday or wedding??
No, but I heard the birthday party cost the the Gross National Product of Guam.
You have Rocknrolla directed by Guy Richie coming out, what was it like to work with him as a director?
I've never been around someone who knows what he wants more than that guy. He has the whole thing mapped out in his head. He hears it all, he sees it all and as an actor you just take the ride with him and it's a brilliant ride. That guy is back and he's better than before.
Article continues below advertisement
Did you get to meet Madonna while you were filming?
She did come by the set. The Material Girl came by the set. She's very respectful and quiet and yet her presence is quite powerful.
Do you have any summer plans?
I'm shooting Entourage in New York. I'm an actor who gets to act, so, that's my vacation.
What's your favorite karaoke song and why?
I'm not much of a karaoke guy. I wish I had a good one for you, I really do but I gotta be honest I'm not much of a karaoke guy.. I don't partake in karaoke, I just enjoy witnessing it.
Anything you'd like to add?
I'm so happy to talk about my mother's theater because so many people we watch and in your magazines come from places like the theater my mother has and she's dedicated her life to the work so nice to draw some attention to it.